Fountain The Geek Molecule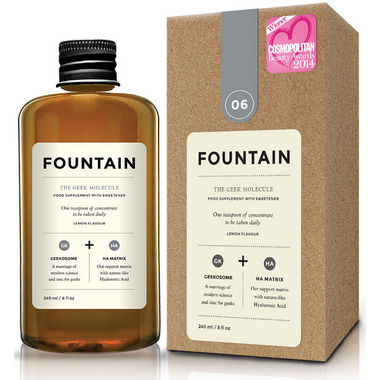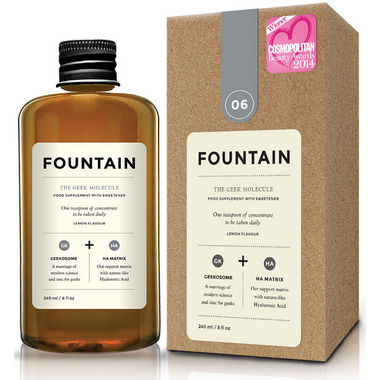 Fountain The Geek Molecule
The Geek Molecule is a concentrated beauty and lifestyle supplement with Zinc and Gotu Kola to support cognitive function and mental stamina.
Features:
ZINC: Zinc is a super-nutrient that plays a crucial role in support of memory formation and cognitive stability. Modern day diets have led to a lack of Zinc in most adults diets. Ensuring proper intake of zinc is an important step toward optimal brain function and may prevent cognitive decline as we age.
GOTU KOLA: Gotu Kola is a rejuvenative nervine recommended to support cognitive function. As a brain tonic, it is said to aid intelligence and memory. It strengthens the adrenal glands while cleansing the blood to treat skin impurities. It is said to combat stress and depression, energize flagging mental powers, increase libido, ward off a nervous breakdown and improve reflexes. It energizes the central nervous system and rebuilds energy reserves.
HYALURONIC ACID: Helps regulate and preserve moisture within tissues and deliver nutrients into the cells. It also enhances the tissue's water retention capacity. Our formula is a vegan-friendly source of pure food-grade Hyaluronic Acid.
SAFE: This formula is free of artificial colours and flavours and is suitable for both adult men and women.
How to Use:
Take one teaspoon (5ml) per day either directly or mixed with your favourite juice or beverage.
Warning:
Do not exceed the recommended daily dose. Food supplements should not be used as a substitute for a balanced diet and a healthy lifestyle. This product is not a substitute for topical beauty products and acts as synergistic therapy. Not suitable for pregnant and breastfeeding women. Keep out of reach of children. Keep away from sunlight and heat. Do not freeze. Consume within 3 months once opened. Store in a cool, dry place. Shake lightly before consumption.