Four O'Clock All-in-one Cold and Cough (Day)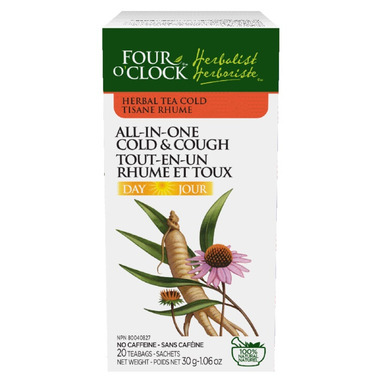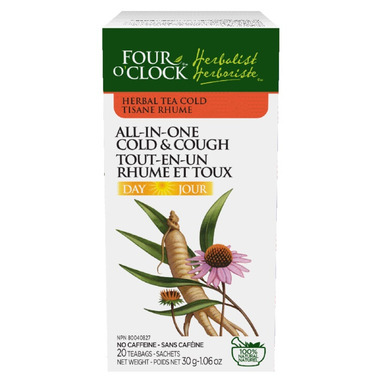 Four O'Clock All-in-one Cold and Cough (Day)
- We're sorry, this product is no longer available!
- Shop for other products in: Bagged Tea

Congestion, sore throat and a lack of energy are often symptoms associated with the cold and flu. In order to treat these ailments, All-in-one cold and cough day contains Echinacea root which prevents infections in the upper respiratory tract. This prevents the cold from progressing and increasing in intensity. Ginger and licorice are used to relieve inflammation of the airways, which reduces the duration of the common cold. This day formula also contains Siberian ginseng to stimulate the entire metabolism thus counteracting the feeling of weakeness and fatigue associated with the common cold. Drink it in the morning after waking up and during the day except in the evening. This herbal tea distinguishes itself from other herbal teas on the market because it targets all symptoms in the sinuses, bronchi and throat.

Ingredients: Eucalyptus (leaves cut), ginger, siberian ginseng (root cut), hyssop (herb), peppermint, licorice, thyme (leaf)

MEDICINAL INGREDIENTS: Each bag contains: Echinacea purpurea root (Echinacea purpurea) 315 mg, ginseng Siberian root (Eleutherococcus senticosus) 315 mg, ginger rhizome (Zingiber officinale) 165 mg, eucalyptus leaves (Eucalyptus globulus) 150 mg, licorice root (Glycyrrhiza glabra ) 135 mg, hyssop herb top (Hyssopus officinalis) 135 mg, thym leaves (Thymus vulgaris) 60 mg.
NON-MEDICINAL INGREDIENTS: Each bag contains: Peppermint leaves, natural lemon flavour.