Free2b Snack Breaks Blueberry Crunch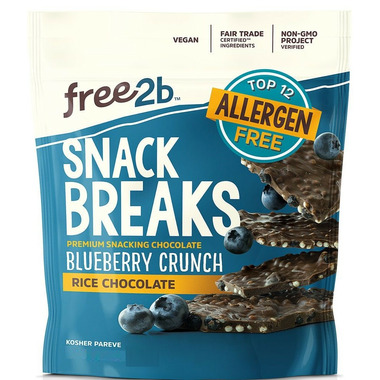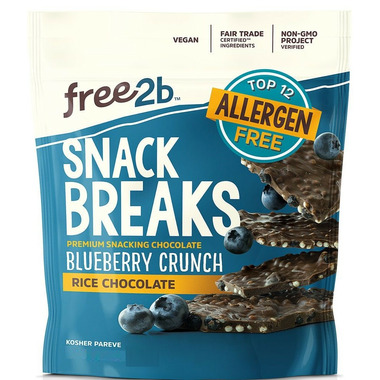 Free2b Snack Breaks Blueberry Crunch
What happens when you mix free2b chocolate with superfood inclusions to create breakable, shareable and snack-able thin bites? Brilliance. This premium snacking chocolate is Top 15 Allergen Free, Vegan, and over-the-top-tasty. With a re-sealable bag, you can eat them all at once or save some for later.
Free2b never allows peanuts, tree nuts, dairy, gluten/wheat, soy, egg, shellfish, fish, coconut, corn, mustard, or sesame in their plant or products. EVER. But their team didn't stop there. They are also free from artificial sweeteners, flavors, colors, sulphites, GMOs, hydrogenated oils and transfats. And, because their products are all plant-based, they are also cholesterol free. Their team is passionate about making foods that are kind to people, animals and the planet.
Ingredients: Chocolate (unsweetened chocolate, Sugar, cocoa butter), Crisp Rice (Rice Flour, Sugar, Salt), Dried Wild Blueberries ( Wild Blueberries, Sugar, Sunflower Oil).