Frontera Texas Original Taco Skillet Sauce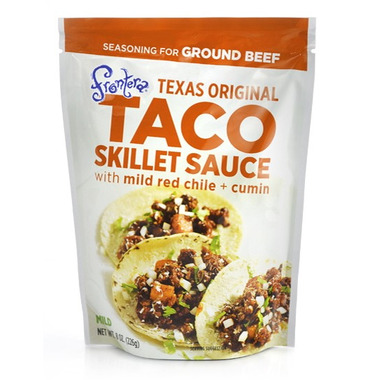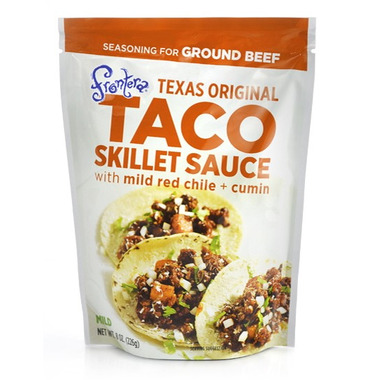 Frontera Texas Original Taco Skillet Sauce
Gourmet Mexican from Chef Rick Bayless!
Amp up your tacos by adding fresh flavour. All it takes is a pouch of Frontera Taco Skillet Sauce warmed with browned meat or chicken. With the bold flavour of red chile, tomato and spices -- wrap it in warm corn tortillas and enjoy some of the best tacos ever.
INGREDIENTS:
Tomato (fresh tomato, tomato puree, calcium chloride and citric acid), roasted tomato, onion, garlic, apple cider vinegar, salt, evaporated cane juice, spices, expeller pressed canola oil, chipotle peppers (chipotles, tomatoes, salt, sesame oil, paprika, vinegar and spices), Worcestershire sauce (distilled vinegar, molasses, corn syrup, water, salt, caramel color, sugar, spices, anchovies, natural flavor [contains soy] and tamarind), water, ancho chile and extra virgin olive oil. CONTAINS SOY and FISH. NO GLUTEN INGREDIENTS USED.