Fusion Bodybuilding AminoMania White Grape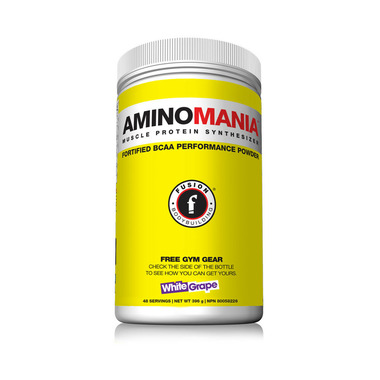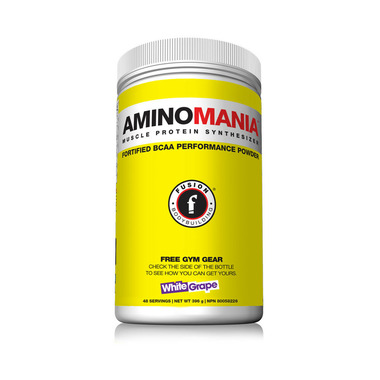 Fusion Bodybuilding AminoMania White Grape
- We're sorry, this product is no longer available!
- Shop for other products in: Amino Acids

Fusion Bodybuilding AminoMania contains both amino acids and branched chain amino acids which play a critical role in the muscle building process. Consisting of Leucine, Isoleucine, and Valine, this supplement repairs your muscles quickly after workouts, promotes muscle protein synthesis and increases muscle growth. It contains the finest and purest amino acids to ensure they are metabolized directly into your muscle tissues, and that you see maximum results in the shortest time possible. All amino acids in this formula are naturally derived from vegetable sources.
AminoMania contains two unique complexes. First is a Protein Synthesis Complex, with L-Leucine, L-Lysine, and L-Aspartic Acid as its key ingredients. L-Leucine is the only dietary amino acid that has the power to stimulate muscle protein synthesis, and help slow muscle degradation. L-Lysine helps promote calcium absorption, aids in muscle recovery, and may even promote growth hormone release. Lastly, L-Aspartic Acid is a non-essential amino acid used by your body to create other amino acids and to increase energy, and mental focus for better performance. Second is the Muscle Performance Complex. Made with amla fruit, a superfood packed with antioxidants, it enhances protein synthesis, helps tone muscles, and reduces bodyfat. Rutin has been added for its antioxidant and vascular health support. Other ingredients – like Calcium, Magnesium, Potassium, Vitamin B6, and Chromium picolinate – serve as electrolyte enhancers, which keep muscles hydrated to promote the strong, healthy system needed for maximum performance and musclebuilding. Added to all this is an Absorption Initiator, which ensures AminoMania is quickly and easily absorbed into your system.
Directions:
Before, during, or post-workout, mix one to two rounded scoops of AMINONMANIA with 250 mL of water per scoop, or as directed by a health care practitioner. To adjust the flavouring, simply increase or decrease the amount of water.
Supplement Facts: