Fusion Bodybuilding One Punch Pre-Workout Formula Cherry Blaster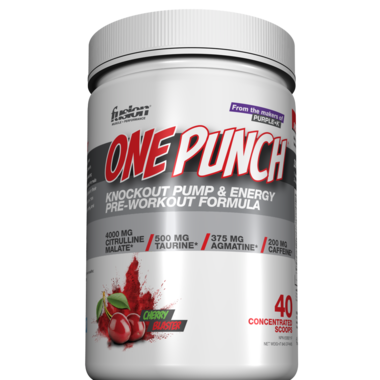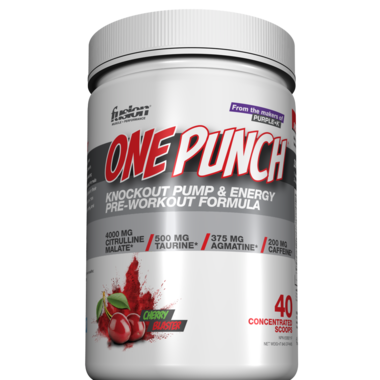 Fusion Bodybuilding One Punch Pre-Workout Formula Cherry Blaster
Meet ONE PUNCH™, a knock-out pre-workout formula that puts the POW! in powerful workouts and stops villainous plateaus in their tracks. With ONE PUNCH™, hard-hitting energy and massive muscle pumps take your results up, up and away! Drink 20-30 minutes before training, and let the transformation begin.
How to Use:
Mix 1 scoop with 250 ml of water and consume 20–30 minutes before your workout.
Medicinal Ingredients:

Citrulline Malate 2:1 - 4000mg
L-Aspartic Acid - 500mg
Taurine - 500mg
Agmatine Sulphate - 375mg
Caffeine Anhydrous - 200mg
Calcium Citrate - 5mg
Potassium Citrate - 5mg
Magnesium - 5mg
Non-Medicinal Ingredients: Natural flavour, silicone dioxide, sucralose, beet root powder, calcium silicate.
May Contain Peanuts, Tree Nuts, Milk, Egg, Sesame, Soy, Seafood, Mustard, Sulfites