Garden of Life Raw Fit Original High Protein Shake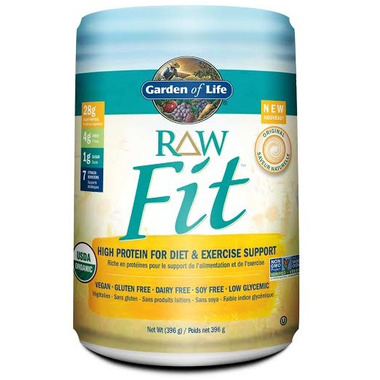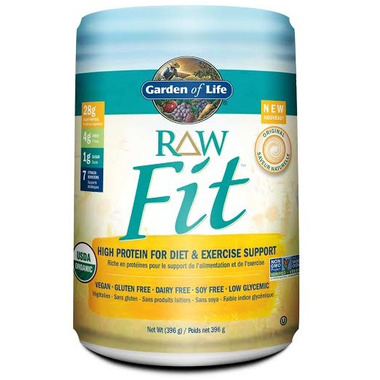 Garden of Life Raw Fit Original High Protein Shake
Clean protein to help build lean muscle naturally when combined with regular exercise and a healthy balanced diet.
Features:
Certified USDA Organic
Non-GMO Project Verified
28g sprouted protein per serving
4g of fibre
Only 1g of sugar
RAW Organic Svetol Green Coffee Bean
RAW Organic Ashwagandha
Probiotics and enzymes
Directions:
2 scoops once daily (2 scoops = one serving). Mix two scoops with 250 mL of water immediately before consumption. Can also be mixed with unsweetened almond milk or rice milk. Take at least 2-3 hours before or after taking antibiotic medication. For prolonged use, consult a healthcare practitioner.
Cautions and Warnings:
Do not use this product if you are pregnant or if you have an immune compromised condition. Ensure to drink enough fluid before, during, and after exercise. Consult a healthcare practitioner prior to use if you are breastfeeding; if you have fever, vomiting, bloody diarrhea or severe abdominal pain; if you have a gastrointestinal lesion/ulcer; if you are having surgery; if
you are taking anticoagulants/blood thinners, antibiotic or anti-inflammatory medication; if you have diabetes or an allergy to latex or fruits. Consumption with alcohol, other drugs or natural health products with sedative properties is not recommended. If symptoms of digestive upset (e.g. diarrhea) occur, worsen, or persist beyond 3 days, discontinue use and consult a healthcare practitioner. Headaches, heartburn, bloating and hypersensitivity/allergy can occur, in which
case discontinue use and consult your healthcare practitioner. If you experience symptoms of hypoglycemia including feelings of anxiety, dizziness, tremor, sweating, nausea, vomiting, diarrhea or headache, discontinue use and consult a healthcare practitioner.
NON-GMO, Vegan, Gluten Free, Dairy Free, Soy Free