Garden of Life Raw Organic Plant Protein Unflavoured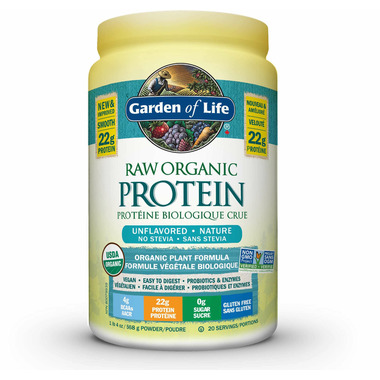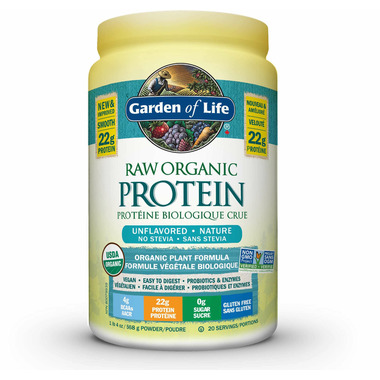 Garden of Life Raw Organic Plant Protein Unflavoured
Packed with 22 Grams of Certified Organic Plant Protein, including organic peas grown and processed in Canada.Assitsts in building and repairs muscles. 14 organic grains, seeds & legumes with probiotics and enzymes added to promote comfortable and effcient digestion. Zero Sugar.
Features:

Excellent Source of Complete Protein from 22 RAW Organic Sprouts
22 Grams of Protein; 3.8 Grams of Branched Chain Amino Acids (BCAAs) per Serving
Fat-Soluble Vitamins A, D, E and K
Live Probiotics and Enzymes
Helps build and repair muscle†
Good for pre- and post-workout
Promotes protein synthesis†
Increases protein content of meals and snacks
Easily digested†
Suitable for vegetarians and vegans
Good for those with sensitivities to milk and other proteins
Highest quality alternative to soy, whey and milk protein
No Fillers, No Artificial Flavors or Sweeteners, No Preservatives
Directions (Adults):
Mix 1 level scoop (scoop included) with 300 ml (10 oz) of water. Delicious with almond milk.
Medicinal Ingredients (Each level scoop contains):
Raw Organic Protein Blend 27.7g [Organic Pea Protein (Pisum sativum seed, 80% protein, 27.2g), Organic Sprouted Brown Rice Protein (Oryza sativa seed, 80% protein, 275mg), Organic Cracked Wall Chlorella (Chlorella vulgaris, 50mg), Organic Amaranth Sprout (Amaranthus retroflexus, 48mg), Organic Buckwheat Sprout (Fagopyrum esculentum, 48mg), Organic Millet Sprout (Panicum miliaceum, 48mg), Organic Quinoa Sprout (Chenopodium quinoa, 48mg), Organic Chia Seed Sprout (Salvia hispanica, 4mg), Organic Garbanzo Bean Sprout (Cicer arietinum, 0.4mg), Organic Lentil Sprout (Lensculinaris, 0.4mg), Organic Adzuki Bean Sprout (Vigna angularis, 0.4mg), Organic Flax Seed Sprout (Linum usitatissimum, 0.4mg), Organic Sunflower Seed Sprout (Helianthus annuus, 0.4 mg), Organic Pumpkin Seed Sprout (Cucurbita pepo, 0.4mg), Organic Sesame Seed Sprout (Sesamum indicum, 0.4mg)] Raw Probiotic & Enzyme Blend: Enzyme Blend [Lipase (Aspergillus niger) 7 FCC LU, Protease (Aspergillus flavus var. oryzae) 795 FCC HUT, Aspergillus acid protease (Aspergillus niger) 4 FCC SAPU, Beta-glucanase (Trichoderma longibrachiatum) 1 FCC BGU, Cellulase (Aspergillus niger) 69 FCC CU, Bromelain (Ananas comosus var. comosus stem) 21,429 FCC PU, Phytase (Aspergillus niger) 2 FCC FTU, Lactase (Aspergillus flavus var. oryzae) 57 FCC ALU, Papain (Carica papaya fruit) 26,667 FCC PU, Pectinase (Aspergillus niger) 2 Endo-PG, Hemicellulase (Aspergillus niger) 71 FCC HCU, Xylanase (Trichoderma ongibrachiatum) 18 FCC XU] Probiotics 3 Billion CFU [Lactobacillus acidophilus La-14 1 Billion CFU, Lactobacillus plantarum Lp-115 1.98 Billion CFU, Lactobacillus delbrueckii subsp. bulgaricus Lb-87 0.02 Billion CFU] Vitamin D2 (Ergocalciferol) 10.9 mcg, Vitamin K1 4.83 mcg, Vitamin E (d-alpha tocopherol) 3.45 mg AT, Beta-Carotene 120 mcg.