Genesis Today Nature Trim 5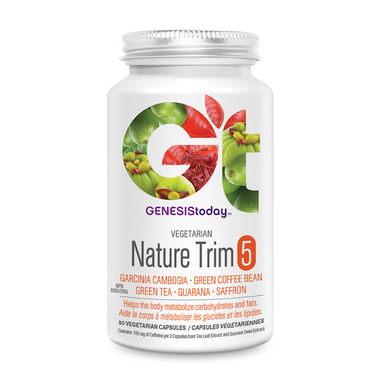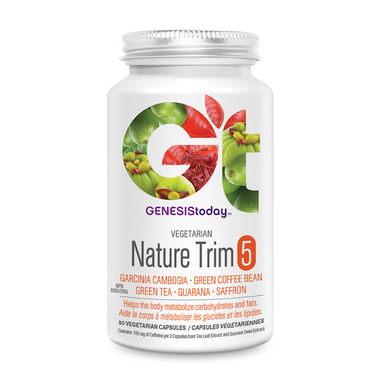 Genesis Today Nature Trim 5
Green Coffee Bean extract with over 45% chlorogenic acids
Contains a blend of epigallocatechin gallate (EGCG) extracted from the green tea leaf
Garcinia cambogia, with 60% hydroxycitric acid (HCA)†, is combined with chromium and Gymnema sylvestre, an herb native to India and Asia
Amazonian superfruit Guarana and Tea Leaf Extract, which offer a natural source of a caffeine
Contains Saffron
Plant-derived supplement in a vegetarian capsule
Features:
Helps the body metabolize carbohydrates and fats
Could help to temporarily increase satiety/feeling of fullness. Provides support for healthy glucose metabolism. Helps the body to metabolize carbohydrates and fats. Could be a complement to a healthy lifestyle that incorporates a calorie-reduced diet and regular physical activity for individuals involved in a weight management program.
Directions:
Take 3 capsules, 3 times daily
Caution:
If seal around cap is broken or missing, do not use. Consult a health care practitioner prior to use if you have an iron deficiency, high blood pressure, diabetes, a heart condition, intestinal disorders, glaucoma, a detrusor instability (over active bladder syndrome), a liver disorder or develop symptoms of liver trouble (such as abdominal pain, dark urine or jaundice), or have or develop symptoms such blood thinner medication. Do not use if you are pregnant, attempting to conceive or breastfeeding. Laxative effect may occur, in which case, discontinue use. Consumption with other caffeine-containing products (e.g. medications, coffee, tea, colas, cocoa, guarana, maté), or natural health products (e.g. bitter orange extract, synephrine, octopamine, ephedra) or other drugs (e.g. ephedrine) which increase blood pressure is not recommended. Hypersensitivity/ allergy is known to occur, in which case, discontinue use.
Ingredients:
Each Vegetarian Capsule Contains / Chaque Capsule Végétarienne Contient: Chromium (chromic picolinate) / Chrome (picolinate de chrome) 3.7 mcg
Amla (pericarp) 50:1 extract (Phyllanthus emblica) / Amla (péricarpe) extrait à 50 :1 21.3 mg(Phyllanthus emblica) Caffeine (Camellia sinensis leaf ) / Caféine (Camellia sinensis, feuille) 32.3 mg Green coffee bean extract ( bean) standardized extract (Coffea arabica) 66.7 mg (45% chlorogenic acid / 2% caffeine) / Grains de café vert, extrait (grains) extrait normalisé (Coffea arabica) (45% d'acide chlorogénique / 2% de caféine) Green tea extract leaf standardized extract (Camellia sinensis) 41.7 mg (95% EGCG (epigallocatechin-3-gallate)) / Thé vert, extrait normalisé de feuilles (Camellia sinensis) (95% d'EGCG [épigallocatéchine 3-gallate] Guarana (seed) standardized extract (Paullinia cupana) (10% caffeine) / Guarana, 16.7 mg extrait normalisé de graines (Paullinia cupana) [10% de caféine] Guava fruit 10:1 extract (Psidium guajava) / Guava, extrait de fruit à 10 :1 [Psidium guajava] 21 mg
Each Vegetarian Capsule Contains / Chaque Capsule Végétarienne Contient:
Gymnema leaf 20:1 extract (Gymnema sylvestre) / Gymnema, extrait de feuille à 20 :1 33.3 mg [Gymnema sylvestre] Holy basil leaves 35:1 extract (Ocimum tenuiflorum) / Basilic sacré, extrait de feuille à 7.7 mg à 35 :1 [Ocimum tenuiflorum] Lemon peel 10:1 extract (Citrus limon) / Citron, extrait d'écorce à 10:1 [Citrus limon] 5 mg Malabar tamarind fruit rind standardized extract (Garcinia gummi-guta) (60% hydroxycitric acid) / 266.7 mg Tamarinier de Malabar, extrait normalisé de l'écorce du fruit [Garcinia cambogia] [60% d'acide hydroxycitrique]
Saffron stigma standardized extract (Crocus sativus) (0.3% safranal) / Safran, extrait 10 mg normalisé de stigmates [Crocus sativus] [0.3% de safranal]
Spirulina platensis whole blue-green algae / Spirulina platensis, algue bleu-vert entière 10 mg Yerba-mate leaf (Ilex paraguariensis) / Maté, feuille [Ilex paraguariensis]
10 mg

Non-Medicinal Ingredients:
Vegetarian Capsules [hypromellose].
Ingrédients Non Médicinaux:
Capsules Végétariennes [hypromellose].