Genestra Four Pillars Cardio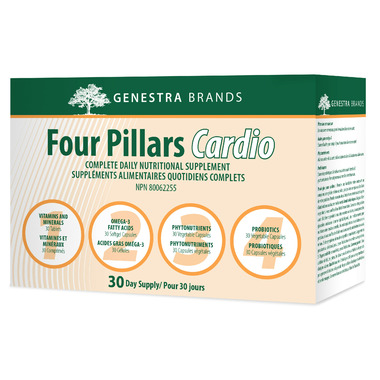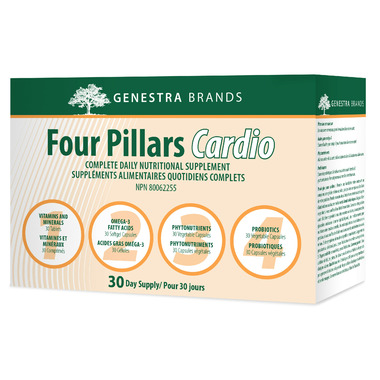 Genestra Four Pillars Cardio
Genestra Four Pillars Cardio promotes optimal health with a unique combination of vitamins and minerals, omega-3 fatty acids, herbs and probiotics. With a blend of nutrients and standardized herbal extracts in the third pillar, Four Pillars Cardio concentrates on supporting cardiovascular health. Garlic bulb is used in Herbal Medicine to help decrease high serum lipid levels, while hawthorn, grape and organic cranberry extracts provide flavonoids and polyphenols to maintain good health. Coenzyme Q10 further provides antioxidants to decrease oxidative damage to cells and helps produce energy for cellular functions and muscle contractions. The vitamins and minerals in this blend support optimal health by promoting proper muscle function, healthy glucose and macronutrient metabolism, as well as eye, skin, immune, and bone health. Four Pillars Cardio also contains the omega-3 fatty acids DHA and EPA to support overall wellbeing, plus probiotics to help support gastrointestinal health.

Features:
Complete daily nutrient formula emphasizing cardiovascular health
Includes the four major cornerstones of good health: vitamins and minerals, omega-3 fatty acids, antioxidants, and human-sourced probiotics
Contains garlic, used in Herbal Medicine to help reduce elevated blood lipid levels in adults
Coenzyme Q10 helps support cardiovascular health while magnesium maintains proper muscle function
Provides Cardiophenol fruit blend for antioxidant support
Helps to support eye, skin, immune, bone and gastrointestinal health
Genestra HMF probiotics (despite having keep refrigerated on box) maintain a high degree of stability at 25C for up to 20 days.

Please be advised that Well.ca follows manufacturer guidelines for storing & shipping probiotics. This product will be shipped with an ice-pack to maintain product efficacy.