Genestra Four Pillars Complete Daily Nutritional Supplement
without Copper, Iron and Nickle
30 Day Supply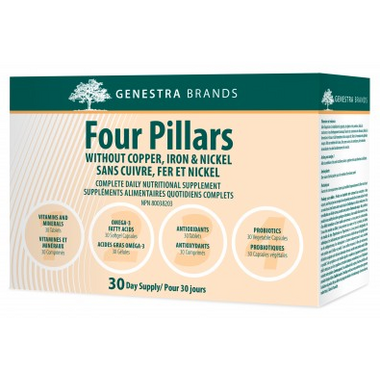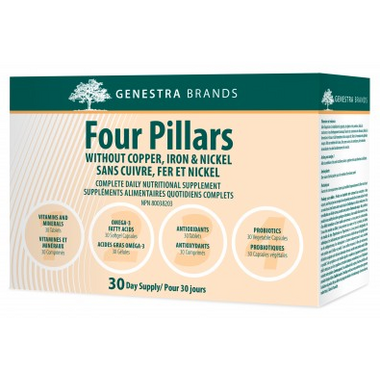 Genestra Four Pillars Complete Daily Nutritional Supplement
without Copper, Iron and Nickle
30 Day Supply
Genestra Four Pillars is complete daily nutrition that includes the 4 major foundations of nutrition: vitamins and minerals, antioxidants, human-sourced probiotics and omega-3 essential fatty acids.
without Copper, Iron and Nickle

Features:
Helps to maintain eyesight, healthy skin, immune function and proper muscle function
Support healthy glucose metabolism, cardiovascular health, cognitive health and brain function
Temporarily modifies gut flora with 2.5 billion CFU
Four Pillars is a unique combination of over 20 vitamins and minerals, omega-3 fatty acids, antioxidants and probiotics that supports optimal health. Vitamin A stimulates immune cell development, maintains eyesight, night vision, and healthy skin.
Vitamin D helps absorb and use calcium and phosphorus for proper bone mineralization. Chromium supports healthy glucose metabolism by promoting both its uptake in cells and its storage as glycogen.
Vitamin C maintains bone and teeth health through collagen synthesis, the major protein in connective tissues. Vitamin C is also the most important aqueous antioxidant. As a first line of defense, vitamin C prevents free radical DNA damage, and recycles vitamin E to protect against damage in lipid membranes.
DL-alpha-lipoic acid, quercetin, green tea extract and coenzyme Q10 further provide antioxidants to maintain good health. In addition to supporting cardiovascular health, EPA and DHA maintain neuron function in the hippocampus, a brain region associated with memory. Probiotics promote the presence of beneficial bacteria to maintain healthy intestines as intestinal microflora can be altered by diet, stress, age, and medication.