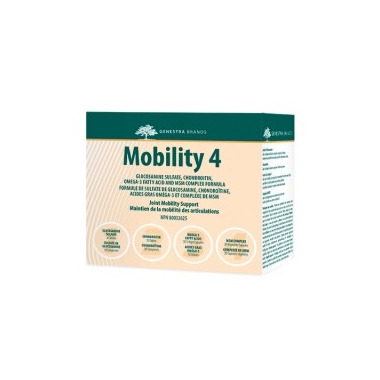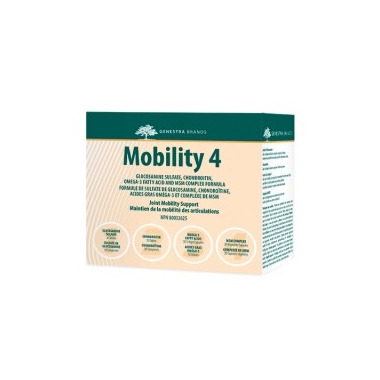 Genestra Mobility 4 supports joint mobility by helping to relieve osteoarthritic joint pain, prevent cartilage deterioration and maintain bone health.
In a 2015 study conducted on 606 patients with knee osteoarthritis, daily supplementation with a combined dose of glucosamine and chondroitin effectively reduced both knee pain and stiffness. For 6 months, participants were given a daily dose of 1500 mg of glucosamine hydrochloride and chondroitin sulfate. At the end of the treatment period, both groups had an approximately 50% reduction in WOMAC (Western Ontario and McMaster Universities Osteoarthritis Index) pain scores, compared to baseline measurements. Knee stiffness, swelling, and mobility were also significantly improved following glucosamine;chondroitin supplementation.
The EPA and DHA omega-3 polyunsaturated fatty acids (PUFAs) in fish oil may help to minimize inflammation, 2-5 and have been shown to decrease transcription of enzymes involved in matrix degradation in cartilage cell cultures. In a cohort study of 535 participants with or at high risk of developing knee osteoarthritis, it was found that higher plasma levels of dietary omega-3 PUFAs, especially DHA, were inversely associated with knee cartilage loss. Ginger, curcumin and rose hips have also been clinically shown to help relieve knee osteoarthritis pain.
Features:
Comprehensive joint-support formula
Relieves osteoarthritic knee and joint pain
Protects against cartilage deterioration
Helps in the maintenance bone health
An antioxidant for the maintenance of good health
Cost-effective combination
Convenient serrated strip format includes 2 capsules and 2 tablets per individual strip
Includes glucosamine, chondroitin sulfate, EPA and DHA-enriched fish oil, methylsulfonylmethane (MSM), vitamin D, curcumin, ginger and rose hips extract
Ingredients:
Chondroitin Sulfate, Curcumin, Eicosapentaenoic Acid (EPA), Ginger rhizome std. extract, Glucosamine Sulfate, Methylsulfonylmethane (MSM), Rose hips extract, Total omega-3 fatty acids, Vitamin D