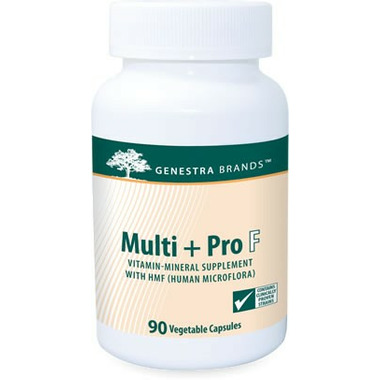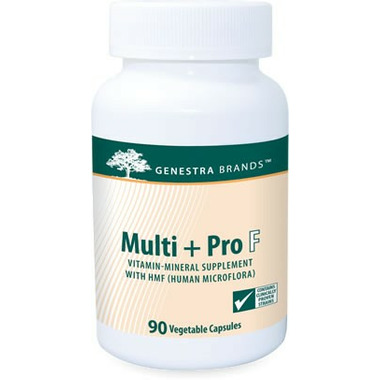 Probiotics, vitamins, minerals and herbs for optimal health in women
Source of probiotics that temporarily modify gut flora
Used in herbal medicines as a hormone normaliser to help stabilise menstrual cycle irregularities and to help relieve premenstrual symptoms
Provides antioxidants for the maintenance of good health
Helps to form red blood cells and helps in their proper function
Includes 50.1 mg of chasteberry and 36 mg of iron per daily dose
Multi + Pro F is a combination of vitamins, minerals, probiotics, and herbs that are traditionally used to help relieve premenstrual symptoms.

Approximately 30-80% of women experience mild to moderate premenstrual syndrome (PMS) symptoms each month. PMS symptoms may result from elevated levels of estrogen or decreased levels vitamins and minerals. Chasteberry improves hormonal balance by increasing the release of luteinizing hormone, which stimulates progesterone release and ultimately decreases estrogen secretion. In a randomized, placebo-controlled trial involving women with PMS, daily supplementation with 40 mg of chasteberry extract for three months significantly improved water retention and psychological symptoms associated with PMS, including irritability, bloating, and breast tenderness. As iron is lost during menstrual bleeding, women require more iron than men. Iron is a necessary component of hemoglobin, and is important for the normal production and activity of red blood cells. B vitamins help mediate hundreds of enzymatic reactions, including the metabolism of carbohydrates, fats and proteins, while vitamin A helps maintain eyesight, skin, membranes and immune function. Multi + Pro F is also a source of probiotics that could promote a favorable gut flora and help support gastrointestinal health.

Ingredients:
Beta-carotene, Bifidobacterium animalis subsp. lactis (CUL 34), Bifidobacterium bifidum (CUL 20), Biotin, Boron, Chaste Tree Fruit, Choline, Chromium, Coenzyme Q10, Copper, DL-alpha-lipoic acid, Dried Cranberry, Folic Acid, Green tea leaf std. extract, Inositol, Iodine, Iron, Lactobacillus acidophilus (CUL-21), Lactobacillus acidophilus (CUL-60), Live Microorganism Consortium, Manganese, Molybdenum, N-acetyl-L-cysteine, Niacin, Pantothenic acid, Pomegranate Fruit Pericarp Std. Extract, Riboflavin, Selenium, Silicon, Thiamine, Vanadium, Vitamin A, Vitamin B12, Vitamin B6, Vitamin C, Vitamin D, Vitamin E, Vitamin K1, Vitamin K2, Zinc
Genestra HMF probiotics (despite having keep refrigerated on box) maintain a high degree of stability at 25C for up to 20 days. Please be advised that Well.ca follows manufacturer guidelines for storing & shipping probiotics. This product will be shipped with an ice-pack to maintain product efficacy.