Genial Day Menstrual Cup Medium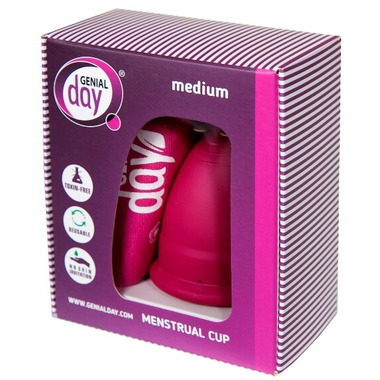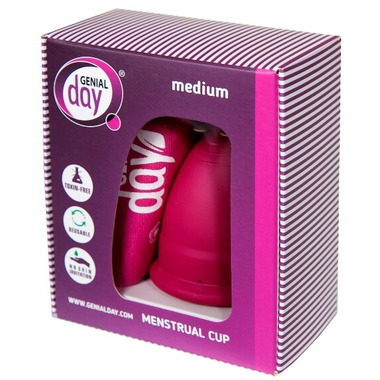 Genial Day Menstrual Cup Medium
- We're sorry, this product is no longer available!
- Shop for other products in: Menstrual Cups

The Genial Day Menstrual Cup is a natural alternative to tampons and pads to collect the flow of your period.
A menstrual cup was invented in 1932, but didn't gain much popularity until the 80s. However, even today, many women don't know the benefits and freedom a menstrual cup could bring to their period days. It's a truly revolutionary product that women still need to discover…
Unlike tampons or pads, menstrual cups collect blood instead of absorbing it. Just like a tampon, a menstrual cup is inserted into the vagina; once inside, it will stay in contact with vaginal walls cupping your cervix. During your period, menstrual blood flows out of the cervix and a menstrual cup will be there to collect it.
Features:
Safe
Effective
Convenient
Eco-friendly
Comfortable
Affordable
Practical
Hygienic
Made with Medical Grade TPE from Germany

Hypoallergenic: does not cause skin irritation.
Reusable and recyclable.
Free of silicone, latex, BPA and phthalate.
Made in Spain

Sizing:
Medium Cup:

For women under 25 years who have not given birth vaginally, with moderate flow
Capacity: 25mL
Diameter: 43mm/1.69"
Total Length: 67mm/2.63"
Stem Length: 12mm/0.47"
Large:

For women older than 25 years or who have given birth vaginally, with heavy flow.
Capacity: 30mL
Diameter: 46mm/1.81"
Total Length: 66mm/2.6"
Stem Length: 12mm/0.47"