Genuine Health Greens+ Extra Energy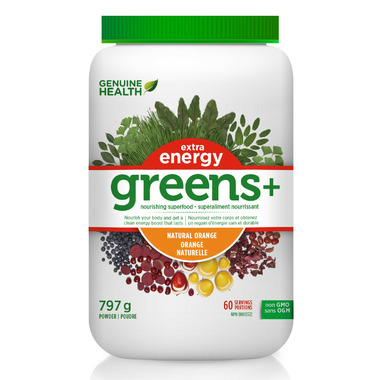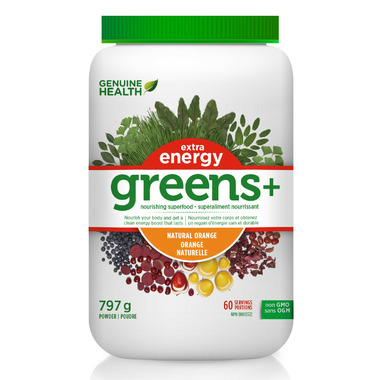 Genuine Health Greens+ Extra Energy
Do you often feel tired or in need of a healthy, all-natural energy boost? Here's your healthiest solution: greens+ extra energy. With greens+ extra energy, you get all-natural energizing ingredients including taurine and naturally occurring caffeine from the kola nut, PLUS a full serving of nutrient-rich
greens+
in every scoop! Just one scoop daily provides immediate, long-lasting energy, along with essential nutrients for a healthier, energized body – naturally.
Benefits:
Superfoods
Digestive Health
Energy & Vitality
pH Acid/Alkaline
Why crash your system just to get a boost? greens+ extra energy will nourish you while it energizes- for a sustained and balanced energy! Just one serving daily provides:
Immediate, long-lasting source of all-natural energy
Increased vitality and mental clarity
No over-stimulation or energy "crash" side-effects
A healthy and sugar-free alternative to "energy drinks" and coffee which tax the central nervous system with unwanted additives and calories
No matter how hectic your days may be, greens+ extra energy will give you a boost everyday - with the healthiest and most balanced source of long-lasting energy – naturally.
Recommended Dosage:
To improve overall well-being, to (temporarily) promote alertness, wakefulness, enhance cognitive performance, relieve fatigue, increase endurance and enhance motor performance, mix 1 scoop (14.8g) of greens+ extra energy to one and a half cups (375mL) of pure water. Shake well. If you are a new user of greens+, begin with 1/3 scoop daily and gradually increase to a full scoop daily over a 3 week period.
Caution:
Use with caution if allergic to bee products.Not to be taken by children, during pregnancy, while breastfeeding, by those on medication, following a low protein diet, or with chronic health problems unless under the recommendation of a health care practitioner. Do not use if you have gastrointestinal blockage. Discontinue and consult a health care practitioner if symptoms of digestive upset occur, worsen, or persist beyond 3 days. Consumption with other caffeine-containing products or drugs which increase blood pressure is not recommeded. This product is not intended as a substitute for sleep. Use with caution if allergic to bee products.
Note:
greens+ extra energy contains no artificial colours, flavours, sweeteners, corn, or egg. Keep greens+ extra energy refrigerated after opening. greens+ extra energy is non-irradiated.




Judy:
a few months ago
LOVE this product! I have been taking this greens for over 3 years now and I still haven't had to cycle off of it like some of the other supplements. I add a scoop of it to my 2L water bottle and sip on it for the entire day. It gives me a clean energy and also mental clarity that helps me through the day without any other caffeine source!
Rosemary:
a few months ago
My family have been using this wonderful product for years. My daughter is convinced she avoids migraines by taking it daily. We believe it provides the nutrients missing in today's foods. We now use the extra energy formula as my husband and I are now seniors and we feel it gives us an extra boost. We highly recommend it. Five Stars!
Page
1