Genuine Health Nutrilean+ Chocolate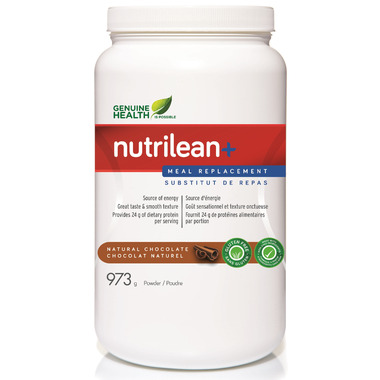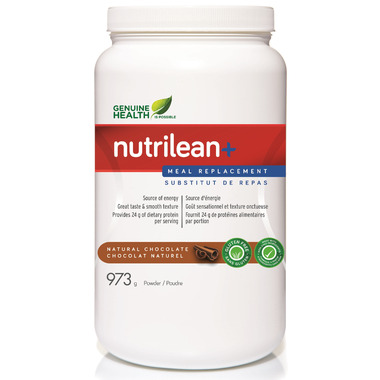 Genuine Health Nutrilean+ Chocolate
Genuine Health Nutrilean+ Chocolate offers a 100% natural meal replacement containing a balanced blend of all your essential nutrients – including slow-burning carbs, lean protein and healthy fats - plus 24 vitamins and minerals. With no artificial ingredients or sweeteners, nutrilean+ can help you lose weight, while providing a healthy source of lasting energy.
Benefits:
Natural
Non-GMO
Gluten Free
Ingredients:
Whey protein concentrates and isolate (bovine milk), soybean oil, soybean lecithin, defatted flaxseed, apple, inulin, xanthan gum, sodium chloride, calcium citrate, potassium bicarbonate, berry blend (wild blueberries, blueberries, black raspberries, cherries, marion berries, boysenberries, blackberries), zinc enriched yeast*, magnesium citrate, managneses enriched yeast*, ascorbis acid, d-alpha tocopheryl acetate, iron citrate, vitamin A palmitate, biotin, copper hydrolyzed vegetable protein chelate, niacin, pantothenic acid, vitamin D, pyridoxine hydrochloride, thiamine mononitrate, riboflavin, folic acid. Chocolate only- xanthum gum, orange extract, natural chocolate, cocoa and hazelnut flavour. Vanilla only- orange extract, natural flavours.

*Bioactive™ proteinate minerals:
These special minerals also found in greens+ multi+ and multi+ complete are organically bound into a fermented food culture proteinate that is recognized by the body as a food and therefore easily absorbed. In addition to being better absorbed, the Bioactive™ minerals are not associated with a metallic aftertaste common to other powdered formulas.

Genuine Health Nutrilean+ Chocolate contains no artificial colours, flavours, sweeteners, egg, gluten or wheat.Directions:
Mix two (2) heaping scoops (61/65g) of nutrilean+ in one and a half cups (375mL) of water. Shake well. Take once daily. Keep refrigerated after opening.