Genuine Health Perfect Skin & Clean Collagen Bundle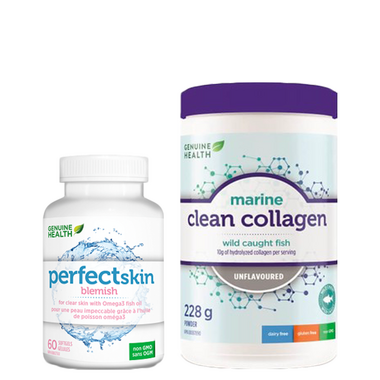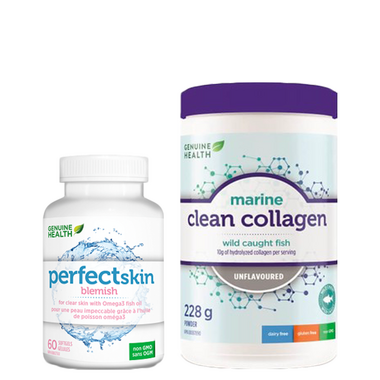 Genuine Health Perfect Skin & Clean Collagen Bundle
Nourish healthier, more radiant skin with the Genuine Health Perfect Skin and Clean Collagen Bundle! Combined, these two work synergistically to improve skin's moisture and texture, while also reducing signs of aging and clear up your skin.

Bundle Includes:
Genuine Health Perfect Skin - 60 Softgels
Genuine Health Clean Collagen Marine Unflavoured - 210g
Genuine Health Perfect Skin
Genuine Health Perfect Skin can get you clear, acne-free and blemish-free skin from the inside out – naturally. Based on leading skin care research and developed in-conjunction with a leading naturopathic doctor and dermatologist, perfect skin contains natural proven ingredients including omega3-EPA concentrate, green tea extract, Zinc and Chromium, to target the main causes of acne and problem skin. Along with a healthy diet, take perfect skin every day for noticeable results in as little as 4 weeks.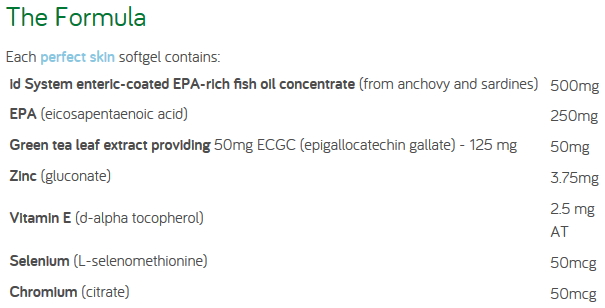 Non-medicinal ingredients:
Gelatin, glycerin, beeswax, lecithin (soybean), dicalcium phosphate, purified water, aqueous coating solution.
Suggested Dosage:
Take four (4) softgels daily with food. Take it a few hours before or after taking other medications.
Not to be taken during pregnancy, while breastfeeding, by those on Tetracyclines or with a history of non-melanoma skin cancer unless under the recommendation of a health care practitioner.
Genuine Health Clean Collagen Marine Unflavoured
Helps with skin hydration, reduce signs of aging, provides hair and nail support, healthy bones and joints, faster recovery and is paleo and keto friendly.