Genuine Health Proteins+ Express Protein Bars
Natural Vanilla
Case of 12 x 50 g Bars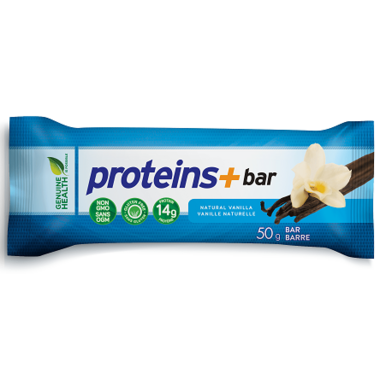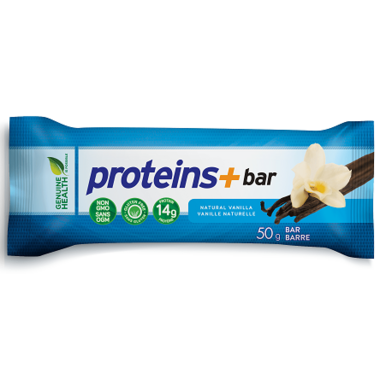 Genuine Health Proteins+ Express Protein Bars
Natural Vanilla
Case of 12 x 50 g Bars
Genuine Health Proteins+ Express Protein Bars can be consumed for a convenient, protein-rich snack containing healthy, all-natural ingredients.
Protein is vitally important for overall health, including weight loss and management, metabolism, fat loss and lean muscle.
Containing all-natural, alpha+ whey protein isolate, proteins+ express bars provide a delicious snack that's low in sugar and fat - and made from all-natural ingredients, including real Belgium chocolate!
Benefits of proteins+ express bars include:
Contain all-natural ingredients with no artificial fillers or sweeteners
Provide 14 grams of protein
All-natural digestive enzymes
Low in fat with great natural taste
As a mid-day snack or pre or post exercise, reach for a proteins+ express bar to get a superior source of all-natural protein and energy – naturally.
Ingredients:
Whey protein blend (whey protein isolate, proteins+ alpha+TM whey protein isolate, Prohydroxy®P enzyme blend [bacterial protease, papain, amylase, lactase, lipase]), milk protein isolate, real Belgian milk chocolate (sugar, whole milk powder, cocoa butter, cocoa mass, lecithin, vanilla extract), dates, roasted soy flour, brown rice syrup, vegetable glycerine, rolled oats, whey protein crisps (whey protein isolate, whey protein concentrate, rice flour, calcium carbonate), soybean oil, fructo-oligosaccharides (natural extract of chicory root), soy crisps (soy flour, soy protein isolate, cocoa), dextrose, dextrin, oat fibre, natural flavours.
MANUFACTURED IN A FACILITY THAT PROCESSES PEANUTS, TREE NUTS, SESAME SEEDS, WHEAT AND EGGS. MAY CONTAIN FRUIT PIT OR NUT SHELL PIECES. CONTAINS MILK, SOY AND OATS.
proteins+ express natural vanilla protein bar contains no artificial colours, flavours, sweeteners or preservatives, corn or yeast.