Genuine Health Transform+ Pulse
Natural Vanilla Almond
891 g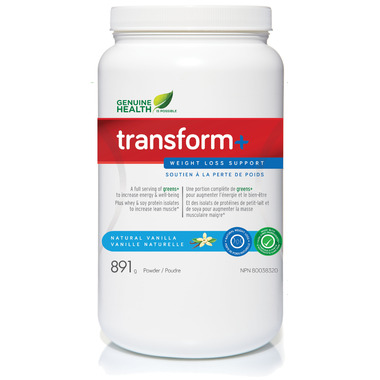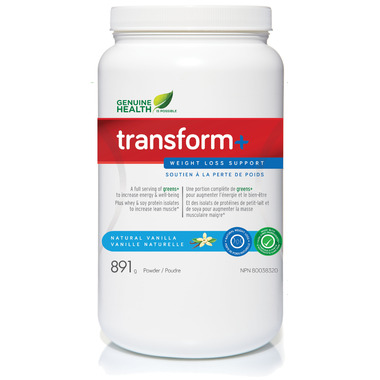 Genuine Health Transform+ Pulse
Natural Vanilla Almond
891 g
Transform your body, transform your life.
With transform+ pulse, you get a highly specialized, comprehensive formula for easier weight loss, increased lean muscle, improved energy, vitality and more.
Developed based on leading research, its formula provides a full base of greens+ enhanced with Genuine Health's award winning alpha+ whey protein isolate, plus 4 Canadian-grown, Non-GMO plant proteins including yellow pea, organic hemp, organic faba bean and flaxseed concentrate.
Benefits of taking transform+ pulse include:
A healthier, energized body
Easier weight loss
Faster lean muscle building and necessary repair
Increased antioxidant support and protection
Improved metabolism, immune system and anti-aging support
Stronger, healthier bones
Simply add to water, juice or your favourite foods with no blender required. Its natural vanilla almond flavour tastes great too!

Non-medicinal ingredients:
Natural flavour blend with stevia, skim milk.
Adult Dosage:
To increase lean muscle and energy, mix two scoops (34.8g) of transform+ pulse in one and a half cups (375mL) of pure water or juice. Shake well. Take once daily or as needed.
Caution:
Not to be taken by children, during pregnancy, while breastfeeding, by those on medication, or by those with chronic health problems unless under the recommendation of a health care practitioner. Do notuse if you have gastrointestinal blockage. Discontinue use and consult a health care practitioner if symptoms of digestive upset occur, worsen or persist beyond 3 days. Use with caution if allergic to bee products. Do not take within 2 hours of other medications. Do not use if you have abdominal pain, nausea, fever or vomiting or if you have a chronic gastrointestinal disorder
Note:
transform+ pulse contains no artificial colours, flavours, sweeteners, corn, egg or yeast. transform+ pulse is non-irradiated. Keep refrigerated after opening.