Giddy Yoyo Organic Chaga Tea Cut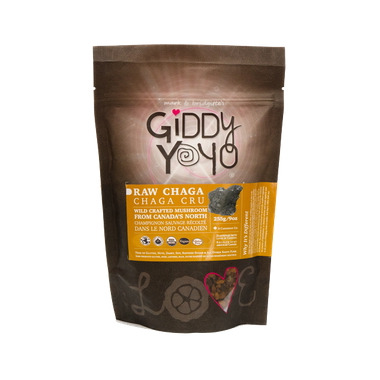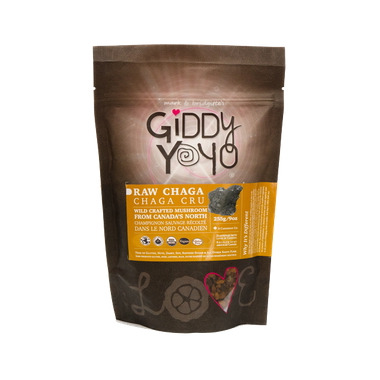 Giddy Yoyo Organic Chaga Tea Cut
CHAGA is a slow maturing mushroom which grows primarily on birch trees, obtaining nutrients from its host and making these nutrients available to us.
Chaga resembles a piece of burnt charcoal and therefore it is sometimes referred to as "Tinder Mushroom".
Throughout history, Wild Chaga has been most widely consumed as a naturally caffeine-free tea. This delicious tea has a subtle woodsy vanilla flavour, and is hand picked in the wild Canadian boreal forest of Ontario and Quebec by our friend. He chooses only mature chaga on mature birch trees, thereby preserving the beauty of the forest and helping to restore the health of the ecosystem. Showing gratitude towards each tree, he communicates his intent to share this gift with those who chose to use it.
Giddy Yoyo CHAGA arrives to you cut up into chunks in "Tea Cut" form. This raw alkaline superfood is ready for you to decoct ideally with some warm spring water…creating a nutrient-packed cup of longevity and health!
All Medicinal Mushrooms may be rich in polysaccharides and super immune enhancing components. They may contain dozens of compounds that help boost the immune system and detoxify the body of certain synthetic chemicals such as bisphenol-A (BPA) found in plastics. Giddy Yoyo CHAGA may also contain the highest amount of anti-tumor, anti-mutagenic compounds of any medicinal mushroom known, especially in the form of betulinic acid.
Giddy Yoyo CHAGA may be a powerful antioxidant extremely high in vital phytochemicals, nutrients, and free-radical scavenging antioxidants, especially melanin. Giddy Yoyo CHAGA may also contain copious amounts of connective tissue building, joint-healing, and skin-youthening molecules known as beta glucans, as well as other Ormus containing polysaccharides.
Ingesting Giddy Yoyo Tea May:
Protect cell components against free radicals and DNA degradation.
Increase longevity by slowing the aging process.
Improve the blood.
Nourish skin and hair through its melanin compounds.
Improve digestion, relieving digestive distress and Candida.
Help with chronic fatigue syndrome and flu
Fight inflammation and inflammatory disease such as Shingles.
Knock out the common cold and fighting viruses.
Detoxify the liver.
Interesting Facts:
Giddy Yoyo CHAGA is hand-picked in the Wild Canadian Boreal forests.
Chaga may be second only to cacao in antioxidant content.
Chaga is known in Siberian shamanism as the "King of the Mushrooms."
May be immune supportive and anti-carcinogenic.
Suggested Usage:
Use 4 TBS GY CHAGA for 1 litre of water; simmer for a minimum of 15 minutes to make a tonic, or up to 2 hours to make a concentrate, remembering to add water as necessary. You can brew your GY CHAGA up to 3 times or until the dark pigments no longer extract into the water. Store used GY CHAGA in the freezer in between batches. For variety add GY VANILLA BEAN POWDER, cinnamon, fresh ginger or other sweet & earthly spices to the brew. Add a spoonful of Coconut Oil before drinking.
Ingredients:
100% Raw Wild Canadian CHAGA, hand-picked air-dried and crushed.