GlutenFreeda Raisin Almond Honey Granola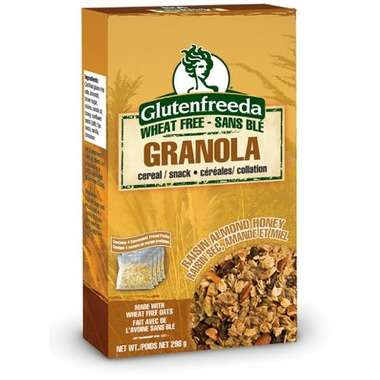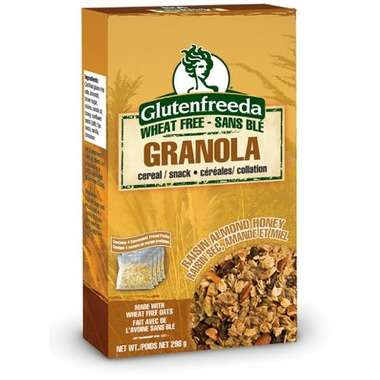 GlutenFreeda Raisin Almond Honey Granola
Granola the way it should be – authentic, delicious and gluten-free! All of the GlutenFreeda granolas provide a great source of fiber and are fortified with flax seeds, known to be high in Omega-3 fatty acids. Eating gluten-free has never tasted so good and been so good for you!
Start your day with a nutritious bowl of GlutenFreeda Granola for breakfast or carry it with you for a great anytime snack. Perfect travel companions for busy lifestyles; whether you're flying, hiking, biking or just in need of a "pick me up" during your day at home, office or school. Just one bite and you'll be hooked.
This delicious granola combines the crisp crunch of apples and roasted almonds with the wholesome goodness of certified gluten-free oats, sunflower and flax seeds to create the perfect granola; delicious, nutritious and very, very nice.

Ingredients:
Certified gluten-free oats, almonds (almonds, canol oil and/or safflower oil), brown cane sugar, raisins (raisins, glycerin, vegetable oil (canola or sunflower oil)), honey, canola oil, flax seeds, contains less than 0.5% vnailla extract and cinnamon