Go Raw Choco Crunch Sprouted Cookie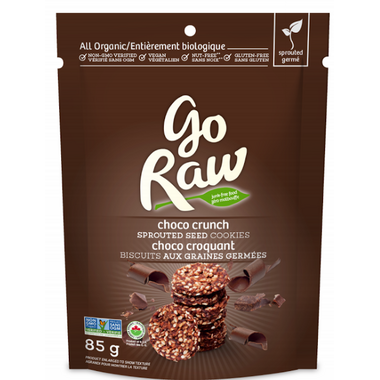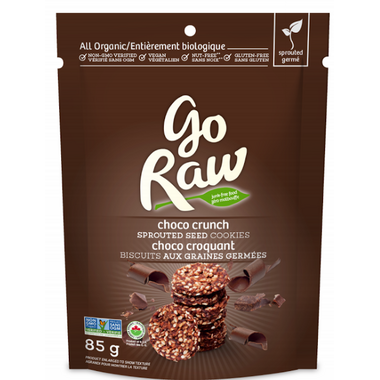 Go Raw Choco Crunch Sprouted Cookie
Small, dark and handsome: Say hello to these Chocolate Super Cookies. They're full of rich, chocolate flavor with a crunch you won't find in any chocolate bar. The good thing is that they've made them so healthy, no one has to feel guilty about indulging in these chocolate treats!

Features:
Raw
Sprouted foods
Organic
Non GMO

Vegan
Gluten free
Nut free
Ingredients:
Organic coconut (unsulphured), sprouted organic sesame seeds, organic dates, raw organic cacao.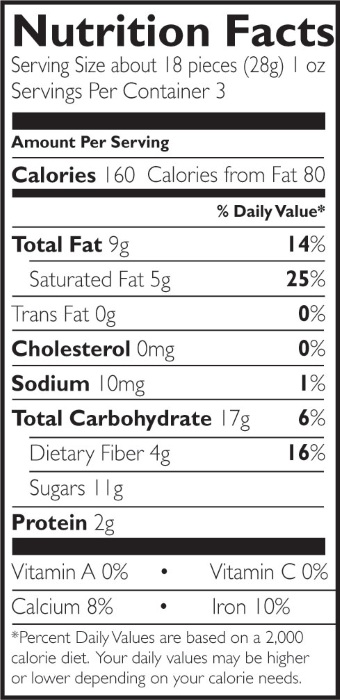 Ken:
a few months ago
I was so very surprised by this product. We are WFPB in diet and do not eat any refined sugars, oils, or processed foods. These "cookies" were delicious and I could hardly keep my hands out of the bag! Highly recommend for that sweet craving and you are NOT eating refined sugar! I have learned that dates are the best sweetener that is essentially guilt free. Excellent product.
Anne:
more than a year ago
Mmm... scrumptious! Hard to believe they're raw with how crispy they are--they almost feel fried insofar as the crispiness. Tasty if you like sesame seeds, cocoa and coconut flavours. Disappeared all too quickly though considering that they're kind of a splurge!

According to the package, 18 cookies (30g) provides 170 calories, 5g saturated fat (25%), 12g sugar, 2g protein, 8% calcium, and 15% iron. Made in USA.
Page
1