Grandma Lucy's Artisan Chicken Fish Recipe Freeze-Dried Grain-Free Cat Food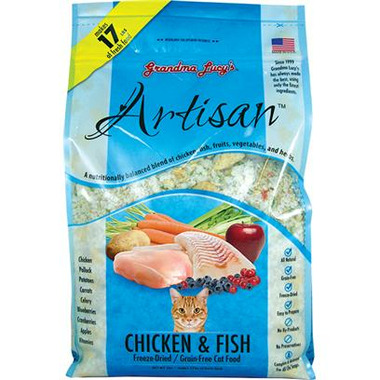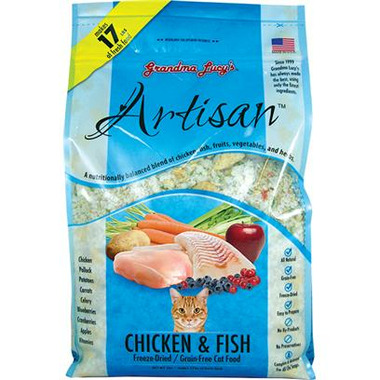 Grandma Lucy's Artisan Chicken Fish Recipe Freeze-Dried Grain-Free Cat Food
Grandma Lucy's makes pure and simple pet food products, cooking for your pet the same way you would.
In their Freeze-Dried, Grain-Free Pet Food, they use only the finest, all-natural ingredients and nothing else!
Features:
Freeze Dried
All Natural
Grain Free
No Preservatives
Non-GMO
Made in California, USA
Directions:

For each cup of food add 1 – 2 cups of warm water.
Stir well and rehydrate for 3 minutes.
After 3 minutes, food may be consumed. Leftover food may be refrigerated for up to 48 hours.

3lb bag makes up to 15 lbs of fresh food. 10lb bag makes up to 50 lbs of fresh food.
Ingredients: USDA Chicken, USDA Pollock, Potatoes, Flax, Carrots, Celery, Apples, Cranberries, Blueberries, Taurine, Vitamin A, Vitamin D3, Vitamin E, Niacin, Iron, Calcium, Phosphorus, Zinc, Riboflavin, Thiamin, Potassium, Manganese, Chloride, Copper, Magnesium, Pyridoxine, Cyanocobalamin.

Guaranteed Analysis:

Crude Protein (min): 40%
Crude Fat (min): 14%
Crude Fiber (max): 3.5%
Moisture (max): 6%
Calcium (min): 1%
Phosphorus (min): 0.55%
Magnesium (max): 0.16%
Taurine (min): 0.30%
Non-GMO, Grain Free, Freeze Dried



Justine:
more than a year ago
I have 3 cats, all rescued and at different stages of life with different dietary needs (one food that would be ok for one cat would make another one sick, etc). After trying dozens of different brands and formulas, I decided to opt for this and see what happened. Since then, the most notable changes have been more energy, softer coat, less stomach troubles (like vomiting), and it might be my imagination but it seems their litter has lost a bit of that "ammonia" smell! One bag lasted my three cats about 20 days, so in the future I will be purchasing two. One thing to note is that it took the two older cats a while to get adjusted to it, but now they love it! Definitely worth $35.99 for healthy and happy kitties :)
clayton:
more than a year ago
This is the only healthy option on here. Too bad that it isn't in a kibble! I am moving on May 31st. So, my current brand most likely won't be available.

The only thing that is preventing me from buying this is that, it expires quickly after making it.

For the money, it's tough decision. For now, I will keep it in my cart!
Page
1