Grandma Lucy's Pureformance Pre-Mix Freeze-Dried Grain-Free Dog Food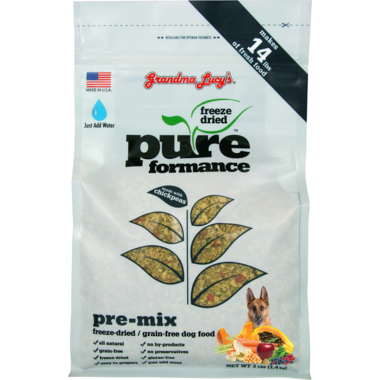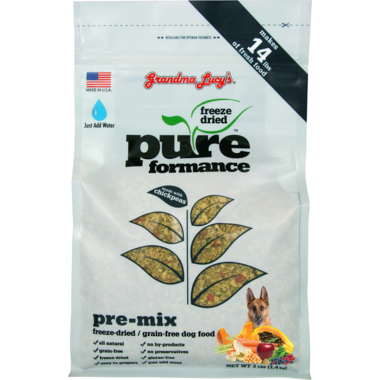 Grandma Lucy's Pureformance Pre-Mix Freeze-Dried Grain-Free Dog Food
Pureformance Freeze Dried/Grain-Free Dog Food Pureformance™ Pet Food is a whole new approach to freeze-dried pet food. This Pureformance Pre-Mix is made with highly nutritious chickpeas, fruits and vegetables, ready for you to add your own protein! Chickpeas are valued for their high protein and extremely low glycemic index.
Grandma Lucy's Pureformance™ uses simple ingredients to bring your pet the best simple nutrition.
Features:
All Natural
Grain-Free
Freeze-Dried
No Preservatives
Non-GMO
Made in California, USA
Directions:

For each cup of food add 1 – 2 cups of warm water.
Stir well and rehydrate for 3 minutes.
For each dry cup of Grandma Lucy's Pre-Mix add 1 cup of meat (cooked or raw), mix well and serve.
3lb bag makes up to 14 lbs of fresh food. 10lb bag makes up to 46 lbs of fresh food.
Ingredients: USDA Chickpeas, Flax, Carrots, Celery, Apples, Bananas, Blueberries, Cranberries, Pumpkin, Papaya, Spinach, Garlic, Vitamin A, Vitamin D3, Vitamin E, Niacin, Iron, Calcium, Phosphorus, Zinc, Riboflavin, Thiamin, Potassium, Manganese, Chloride, Copper, Magnesium, Pyridoxine, Cyanocobalamin.

Guaranteed Analysis:

Crude Protein (min): 21%
Crude Fat (min): 9%
Crude Fiber (max): 6.9%
Moisture (max): 4%
Calcium (min): 1.2%
Phosphorus (min): 0.8%
Magnesium (max): 0.16%
Non-GMO, Grain Free, Freeze Dried