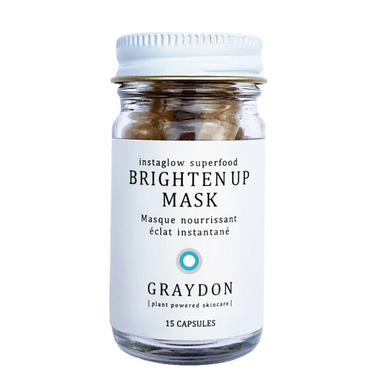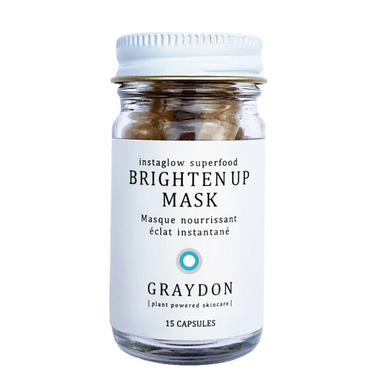 If your face needs a wake-up call, then this is the product for you. Graydon Brighten Up Mask is made with 19 outstanding superfoods, which combine forces to gently but effectively exfoliate and brighten your face.
Unlike a typical powdered mask, Graydon's is pre-portioned in easy-to-use, single serve veggie capsules, which keep the superfoods inside super fresh. Just blend the capsule contents into your favourite creamy cleanser or face oil, apply, and sit back and enjoy!
This product is EWG and Leaping Bunny Certified.
Key Ingredients & Benefits:
Vitamin D2 promotes skin healing
Papaya contains an exfoliating fruit enzyme
Matcha green tea soothes your skin
White willow bark is a gentle exfoliant
Shiitake mushroom helps to brightens your skin
Activated charcoal aids in detoxification
Vitamin C assists in repairing damaged tissue,
Astaxanthin (red algae) revitalizes photo aged skin
Licorice root promotes skin elasticity and fights inflammation
Ground chia seeds speeds up skin repair
Probiotics promote healthy bacteria growth
Hyaluronic acid helps fill in and minimize fine lines
Green coffee extract potent is a free radical buster
Aloe + coconut water deeply moisturize
Zinc decreases inflammation
Sodium bicarbonate acts as a gentle exfoliant
Cinnamon is skin plumping
Xylitol improves the skin's barrier
Zeolite works to absorb toxins
Ingredients:
Sodium Bicarbonate, Zeolite (clinootilolite zeolite), White Willow Bark (salix babylonica), Matcha Green Tea (camellia sinensis), Chia Seed (salvia hispanica L), Probiotic blend, Shiitake Mushroom (lentinula edodes), Cinnamon (cinnamomum cassia presl.), Vitamin C (magnesium ascorbate), Green Coffee Bean (coffea arabica), Zinc (citrate), Aloe Vera (aloe barbadensis leaf), Licorice Root (glycyrrhiza glabra), Papaya (carica papayal.), Coconut Water (cocos nucifera l.), Activated Charcoal, Astaxanthin (from red algae), Micro Fermented Hyaluronic Acid (sodium hyaluronate), Vitamin D2, Xylitol

Though all the ingredients are food grade, this product is meant for topical use only.