salad for your skin
50 mL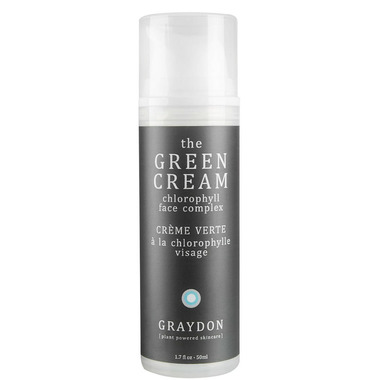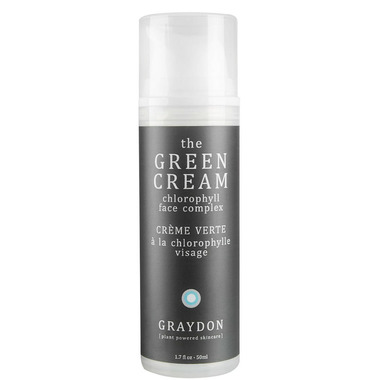 Graydon The Green Cream
salad for your skin
50 mL
Infused with broccoli, avocado, coconut, olive, aloe and fresh herbs this light feeling lotion like cream is like a salad for your skin.
Phytonutrients in Graydon's Green Cream include chlorophyll which is responsible for deep detoxification as well as the cream's pale green hue.
Sulforaphane found in broccoli seed oil delivers powerful antioxidant and anti-inflammatory protection to help fight free radical damage.
Alpha Lipoic Acid resurfaces the skin and refines pores.
The addition of Graydon's signature essential oil blend of addictively fresh smelling parsley, sage, rosemary and thyme -- which is jam packed with anti-oxidant rich rosmarinic acid... will soothe your skin and help stimulate your lymphatic system.
Suitable for almost any complexion (young/mature, oily/dry) this multi tasking cream is wonderful to use on all the areas of your body.
This product is EWG Verified and Leaping Bunny Certified.
Key Ingredients & Benefits:
Chlorophyll: helps to removes toxins that have built up in your cells over time. It aids in removing the burden of toxins your skin is bearing, and will also help nourish your starving cells with 'skin food', such as trace minerals (which are essential nutrients that your skin needs to thrive).
Broccoli: this oil's unique combination of fatty acids makes for a wonderful non- greasy lubricative consistency which happens to mimic the molecular feel of silicone, making it a popular choice in personal care products. This cold pressed oil comes from the cruciferous family of vegetables, and contains sulforaphane which has detoxifying and anti-oxidative qualities. It also contains Alpha Lipoic Acid which helps resurface the skin and refine pores.
Parsley: rich in rosmarinic acid, aromatherapists credit the essential oil of parsley seed with having anti-microbial, anti-rheumatic, antiseptic, astringent and diuretic properties.
Ingredients: purified water (aqua), aloe vera juice (aloe barbadenis), avocado oil (persea americana), cetyl alcohol (coconut oil), stearyl alcohol (mixed plant), broccoli seed oil (brassica oleracea italica), vegetable glycerin, olive oil (olea europaea), jojoba oil (simmondsia chinensis), sodium chloride (mixed plant), chlorophyll (chlorophyllin), grapefruit seed extract (citrus grandis) in a blend of pure essential oils and nothing else!