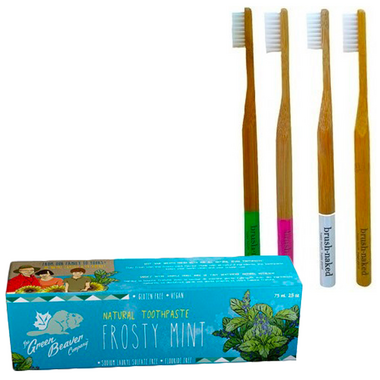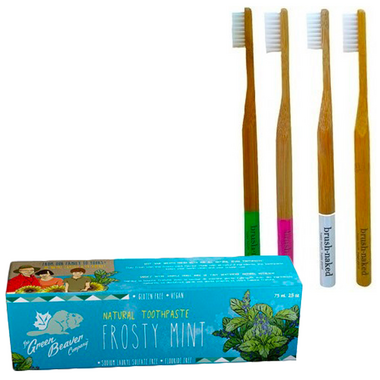 Green Oral Care Bundle

Feel good about the choices you make, especially when it come to your oral hygiene. This bundle bundle features a minty fresh natural toothpaste made with plants and minerals and toothbrushes made of 100% bamboo!

Bundle Includes:
Green Beaver Frosty Mint Toothpaste - 75 mL
Brush Naked Bamboo Toothbrush Soft - 4 Pack

Green Beaver Frosty Mint Toothpaste
Green Beaver natural toothpaste is made with plants and minerals. Unlike toothpaste with fluoride, children under the age of 6 years of age can safely swallow this natural toothpastes (including toddlers). Made with real flavours without any chemically engineered synthetic flavours (or dyes), making it better for us and our environment! This toothpaste contains natural antibacterial agents such as Xylitol, lemon and tea tree extracts. Xylitol occurs naturally in fruits and vegetables, including berries, apples, and plums. It also contains natural mineral whiteners such as Silica and calcium carbonate, natural breath fresheners like aromatic and refreshing herbs. With Calcium ascorbate, which contributes to the normal development and maintenance of teeth and gums.
Ingredients:
Calcium carbonate, sorbitol, aqua, glycerin, silica, xylitol, mentha piperita (peppermint) oil, citrus medica limonum (lemon) extract, calcium ascorbate, melaleuca alternifolia (tea tree) leaf oil, menthol, sclerotium gum, coco glucoside, xanthan gum.
Brush Naked Bamboo Toothbrush Soft
All Brush Naked toothbrush handles are made of 100% bamboo with recyclable nylon bristles. Packaged in Biodegradable cello wrap made from wood and cotton pulp. The made in Canada boxes are recyclable/compostable. Toothbrushes are made in China from moso bamboo.