Halfmoon Yoga Relax & Savasana Blanket & Eye Pillow Set Sandstone & Garnet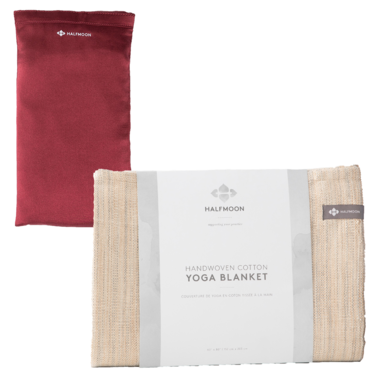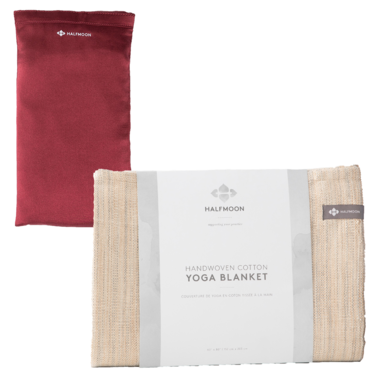 Halfmoon Yoga Relax & Savasana Blanket & Eye Pillow Set Sandstone & Garnet
Find your zen with the Halfmoon Yoga Relax & Savasana Blanket & Eye Pillow Bundle.
Bundle Includes:
Halfmoon Cotton Yoga Blanket Melange Sandstone
Halfmoon Silk Eye Pillow Garnet Lavender
Yoga Blanket Details:
Halfmoon Cotton Yoga Blanket is perfect for your yoga practice and beyond. Handloomed in India, this blanket provides gentle cushioning, support and warmth. Extremely versatile, you can roll it like a bolster, add height to your block, fold it for seated poses and shoulder stand, and use it as a cozy layer for Savasana. Woven with flat selvage edges, it folds flat and stacks evenly making it the yoga blanket of choice for all levels and styles.

Material: 100% cotton
Silk Eye Pillow Details:
Slip into deep relaxation with this luxuriously soft mulberry Halfmoon Silk Eye Pillow. Pure bliss during restorative yoga, before bed, while traveling, or after screen time. When heated, this eye pillow soothes dry eyes and relaxes the mind and body.

Materials:
Eye pillow cover:
100% pure silk,
Eye pillow casing:
100% cotton,
Filling:
lavender and organic wheat berry