Hatchimals CollEGGtibles Season 4 Tropical Party Playset
Hatchimals CollEGGtibles Season 4 Tropical Party Playset
is rated out of
5
by
56
.

It's a tropical party – and you're invited! Join the Hatchimals CollEGGtibles on their Tropical Party Playset! With magical lights and musical effects, this playset shows how your Hatchimals shine! There are two ways to get the party started: press the pink flower and your playset will light up and play fun party music!
For more surprises, head to the main stage! Press the flower and stage together to unlock secret sounds! It's so easy to start the party! With three light-up stages, the band can entertain while your two exclusive Season 4 Hatchimals CollEGGtibles (included) twirl on the spinning dance floor! Send them floating up to the cloud nests and spin to discover even more surprises! As the clouds whirl around and around, the stars will light up, twinkling while your Hatchimals have fun! From the cloud, send your characters sliding down the glittering waterfall, straight into the twinkling ocean! As they swim towards the shore, your Hatchimals can climb onto the dock and relax in the sandy nests! With a glittery palm swing close by, your friends can take turns before stopping at the papercraft snack shack (included)! Craft your own snack shack for your characters and create delicious drinks for your Hatchimals to enjoy! You can add adorable accessories like surfboards, pool floaties and more to your playset! The more you play, the more they party! Show how your Hatchimals shine with the Tropical Party Playset!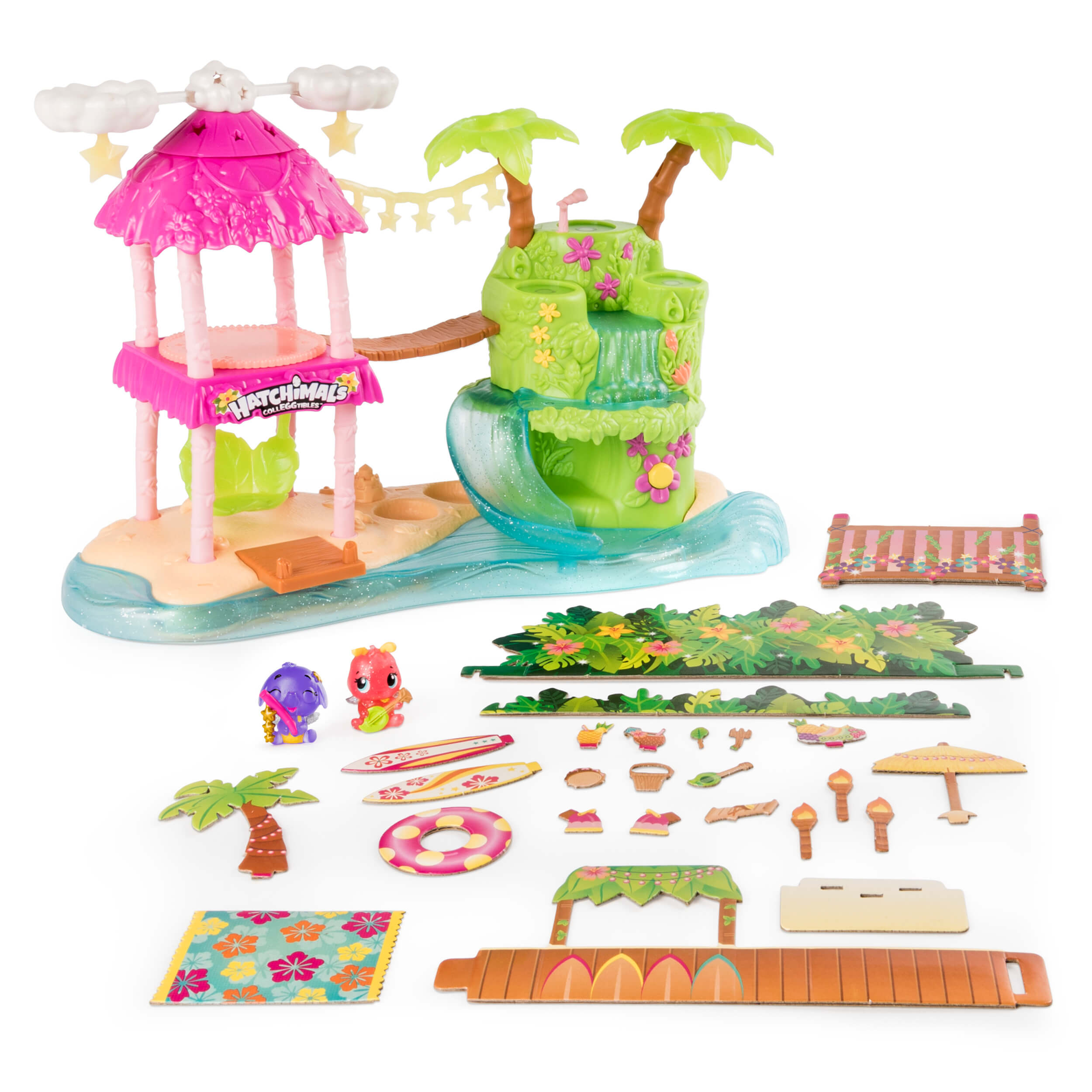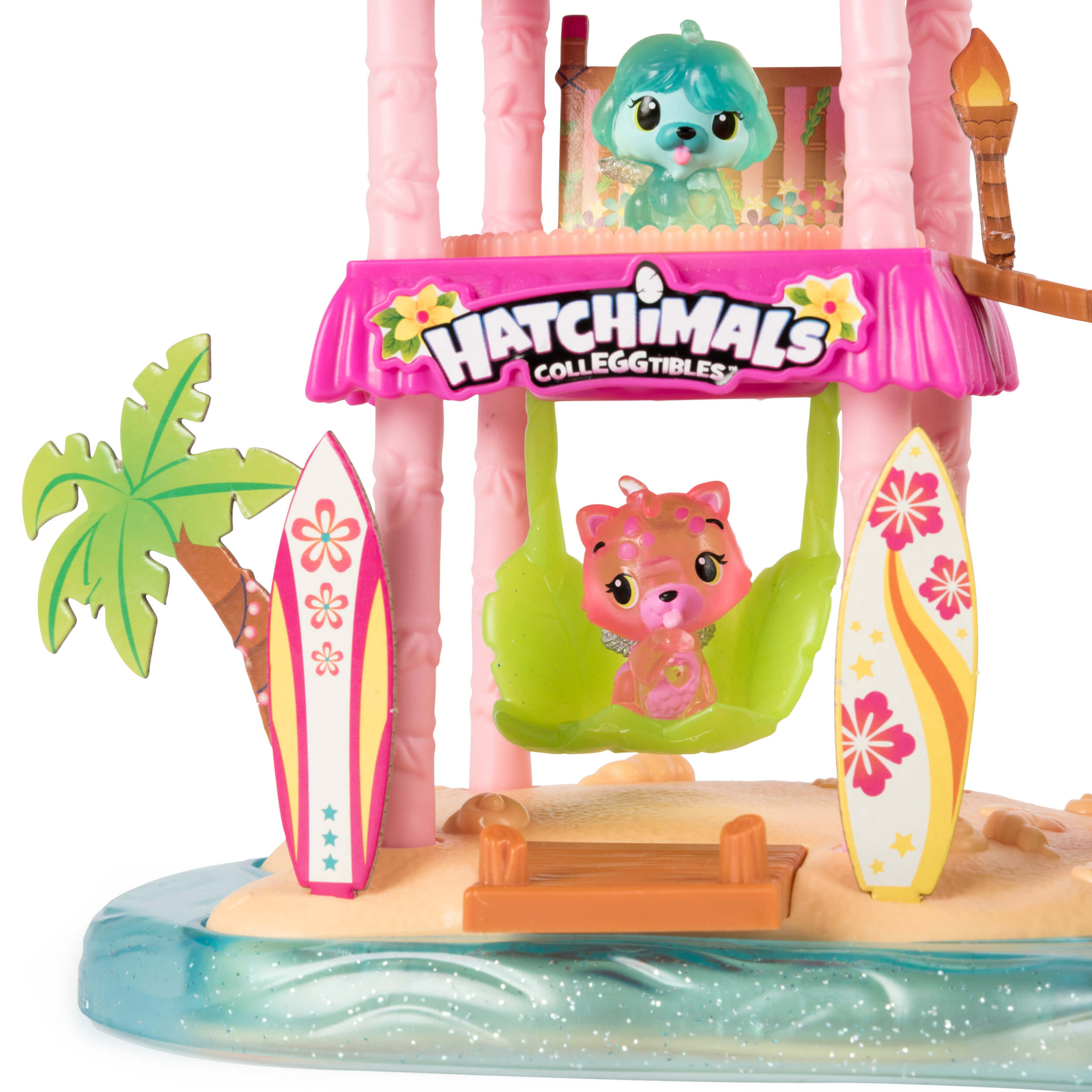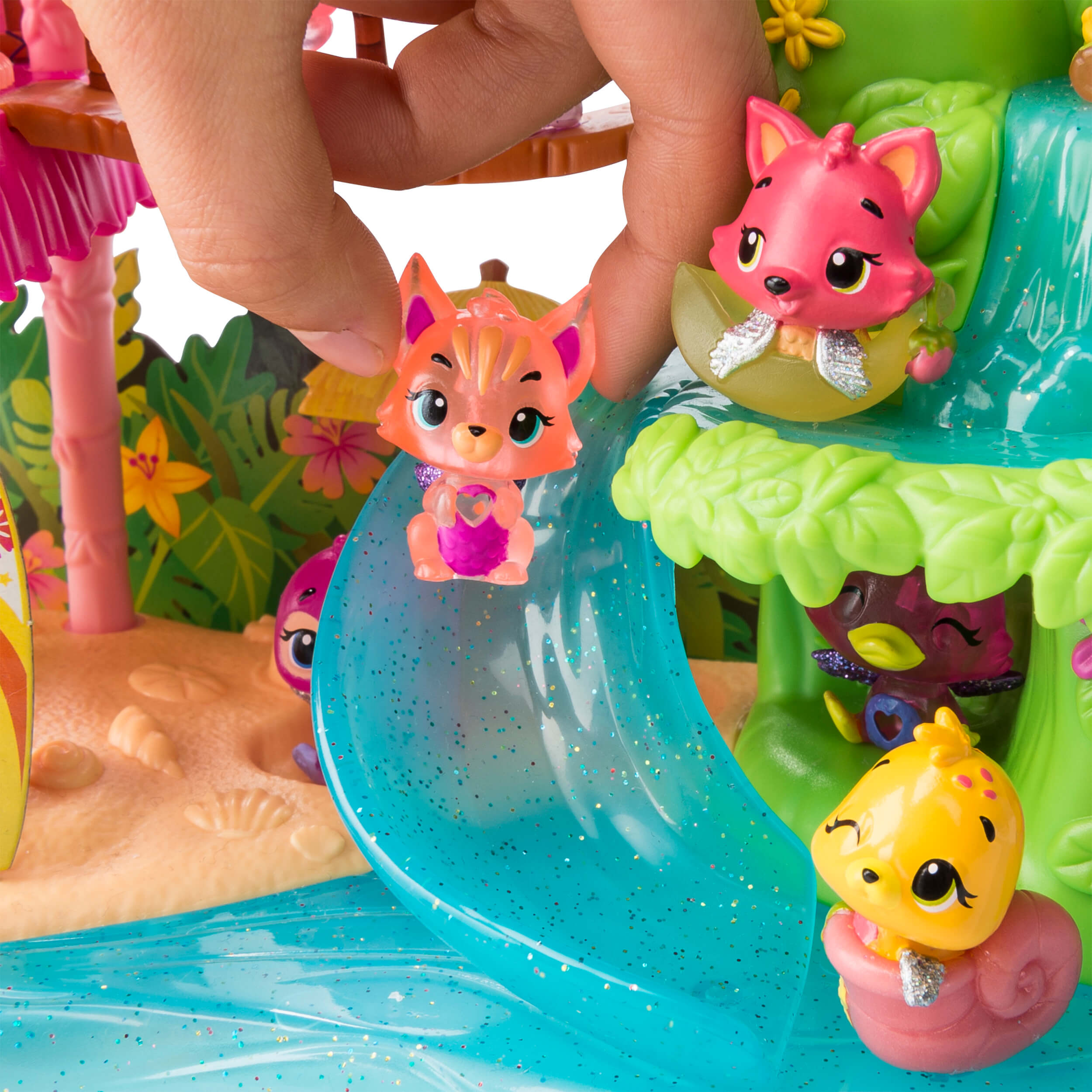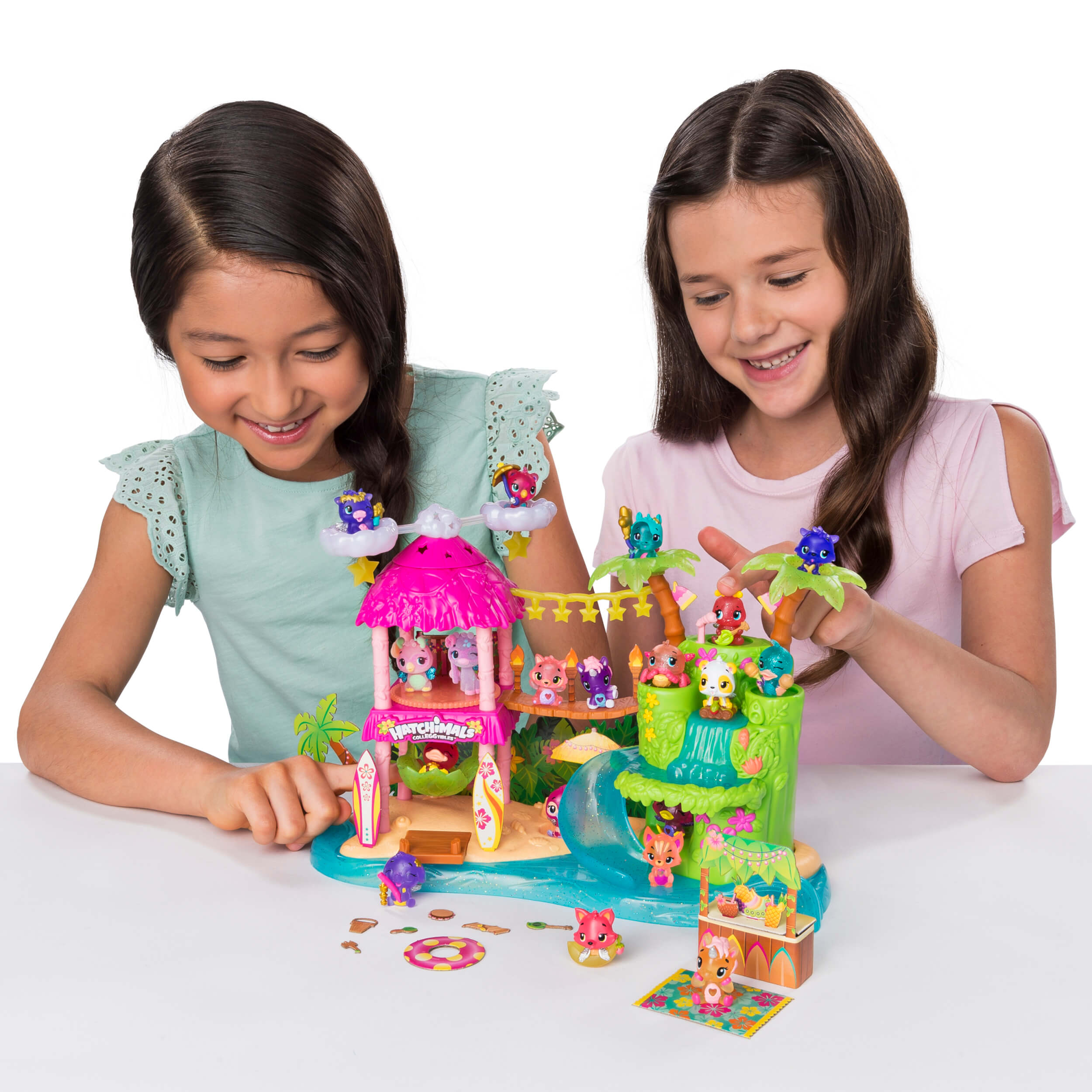 Similar Dolls & Accessories
Rated

4

out of

5
by
rcoxy91
from
(This review was collected as part of a promotion.) I recieved the Hatchimals Tropical Party Playset for free from Family Rated. My kids couldnt wait to get it out of the box. It came with 2 Hatchimal figures which was nice. My kids loved all the different options for the music and lights. With the spinning floor and swings, and the music and lights they pretend their Hatchimals were having a big dance party. Their were some extra add ons that came with it like trees and surf boards. They were made of cardboard though and didnt hold up very well. Over all I think I would recommend this toy. My 5 yr old really enjoyed playing with it.
Date published: 2018-10-18
Rated

5

out of

5
by
vihottie
from
(This review was collected as part of a promotion.) My daugher absolutely loved the HATCHIMALS COLLEGGTIBLES TROPICAL PARTY PLAYSET. It's very cute with several interactive features. The set is very sturdy. I love that you only have to press one button in order to activate the light show instead of having to press several in different areas. The set only comes with two unique Hatchimals, but there's room to play with more once purchased. The colors are very vibrant. The decals stayed on once placed. My daughter played with it for continuous hours. I love that it didn't fall apart while playing with it. It does require batteries that aren't included.
Date published: 2018-10-16
Rated

5

out of

5
by
Ctownsend10
from
(This review was collected as part of a promotion.) I received this product for free to review. This is great for any Hatchimals fan. The playset itself is very well made, colorful and has a lot to explore. It plays music and lights up, and you can even set it to play the music at half volume which I think is great. The two Hatchimals that come with it are adorable, but they are pretty small so keep that in mind when purchasing for a young child. It comes with a bunch of cardboard cutouts which are cute and add to the fun, but not all of them have a place to go on the playset so you are left with a lot of pieces to keep up with. My kids love playing with their Hatchimals playset, and I think it's a great toy for them.
Date published: 2018-10-18
Rated

5

out of

5
by
Bee Zee Girl
from
(This review was collected as part of a promotion.) This was so adorable. As soon as the HATCHIMALS COLLEGGTIBLES TROPICAL PARTY PLAYSET arrived it was put to fun use. My girl loved it. Will definitely be buy more similar toys since she is having so much fun. I can even see her playing with her cousins and friends with this as well. The lights and music seem very interesting and fun. The size of the toy is not space consuming which is a pulse. The value was okay if bought on sale. I received this complimentary to try however my opinions are all mine.
Date published: 2018-10-17
Rated

5

out of

5
by
Schmidtmommy
from
(This review was collected as part of a promotion.) When we first unboxed the toy, I was expecting this to be like many others; played one song, one part moves and the kids would quickly grow tired of it. However, I was quickly proven wrong, and weeks later, all three of my children still actively play with this. There are many song points that set off the music. Each one has a different tune. As a parent, I also greatly appreciate the volume control option! The cardboard cutouts are sturdy enough for multiple rounds of play and add in extra fun then just the playset. We've since acquired additional Colleggtibles to add to the party. *I did receive this item for free in lieu of a review, however all thoughts are my own honest opinion*
Date published: 2018-11-15
Rated

4

out of

5
by
Cavnoe
from
(This review was collected as part of a promotion.) The set I received was colorful and well made. The two spinning clouds at the top were absolutely adorable. I was originally concerned that small pieces would break off of this set. However after hours of playing with this set it is still on one piece. The sounds have not deteriorated, the lights are just as bright. I may have to purchase another one for my God child. Right now this is the favorite toy of the month. My kids love it. The exclusive figures that come with the set are often taken with us on car rides and kept in small pouches. I was told they are fairys not hatchimals. LoL If you have a young child this would be a cute gift to encourage them to use their imagination.
Date published: 2018-11-01
Rated

5

out of

5
by
del_hannah
from
(This review was collected as part of a promotion.) I was so excited to find out that I got accepted for this review opportunity, and so are were kids. They both loved the Hatchimals ColleGGible Tropical Party Playset! I was surprised to find out all the functions, and accessories they came with. They loved the lights, the two figures that it came with, and the various awesome sounds! They give this toy a thumbs up! -Thank You again for the opportunity to try before I buy, and I hope I get more opportunities like this one in the future.
Date published: 2018-10-22
Rated

5

out of

5
by
Eddingerc
from
(This review was collected as part of a promotion.) I am a huge fan of Hatchimals, as a brand. I received the Colleggtibles Tropical Party Playset. My 9 and 10 year old girls are still playing with it! The toy is made with great quality. With its lights, sounds, sparkley slide, etc, there is something new to discover each time they pick it up! I would definitely purchase more Hatchimals products! The price is always right. I can find them at any major retailer. I would recommend this product to anyone with smaller children!
Date published: 2018-11-07