Hello Bello Club Diaper Bees & Butterflies Prints
Hello Bello Club Diaper Bees and Butterflies Prints
is rated out of
5
by
23
.
Say goodbye to leaks and blowouts. Hello Bello's cutting-edge core contains a specially designed absorbent material that can absorb over 50x its weight in fluid. Plus, the inner and outer layers are super soft with a snug fit for supreme comfort.
Their specially designed core with spherical absorbers allowing to reduce waste (less material) while maintaining performance (more absorbency). This technology promotes dryness, locking wetness away in bubbles of leakage protection. Their eco-friendly and hypoallergenic diapers are made with sustainably harvested fluff pulp.
Features:

Breathable to promote good skin wellness
Wetness indicator (on Newborn to size 2)
Say goodbye to: lotion, fragrance, phthalates
Specially designed absorbent material can absorb over 50x its weight in fluid
Ultra-soft, cloth-like feel, inside and out, wraps your baby tenderly
Stretchy side panels for freedom of movement
High-loft acquisition layer for advanced leak protection
Stays snug when soiled, reducing sag and keeping a secure and comfy fit
Plant-derived absorbent core liner
100% Chlorine-Free processing
Two Cute Patterns Included: Bees & Butterflies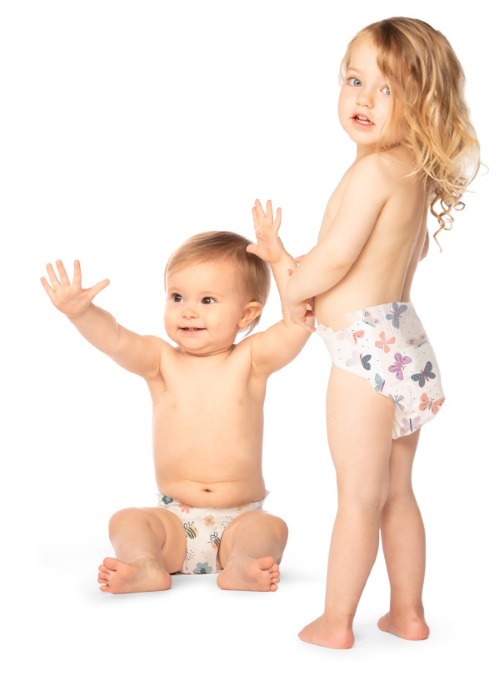 Other Hello Bello Products
Rated

4

out of

5
by
Natalie1218
from
Fits small
I really liked these diapers but I found they fit small compared to other brands.
Date published: 2020-05-20
Rated

5

out of

5
by
Katie
from
My go to when we're travelling!
We use cloth diapers but when we're travelling, we typically opt for disposibles and they are our go to. They're SO soft, minimal, and don't have a weird chemical-like smell like some of the ones we purchased. I've tried other 'eco-friendly' brands and some are rough, tough, and don't hold up well. These are awesome. Very few leaks! We don't have an issue with fit - our girl is petite so perhaps that's why they fit well? But all around, 5 stars for sure!
Date published: 2020-06-27
Rated

5

out of

5
by
L8N9
from
Winner!
We LOVE these diapers! They are the only diapers we use for our daughter. We tried them, and tried another diaper (Due to bundle costs) but we came back regardless of price. They are absorbent, the elastics are nice and stretchy, diapers are thin and not bulky and the designs are sooo cute!
Date published: 2020-03-13
Rated

1

out of

5
by
Ani
from
A lot of leaking
I really, really, wanted to love these, but they were a hard miss for us. My daughter has never, ever experienced diaper leaking...until we tried hello bello diapers. The leaking wasn't only at night, randomly throughout the day I would notice her pants were wet because urine had leaked from the diapers. We normally use pampers and will be sticking with those!
Date published: 2020-05-04
Rated

5

out of

5
by
Jen312
from
So soft!
We switched our son to cloth diapers around 8 weeks, but still used disposables at night for a bit. We used almost all the different natural diapers that are sold at well.ca and these were our favourite. They fit well, have cute designs, worked how a diaper should, and are a great price.
Date published: 2020-12-09
Rated

4

out of

5
by
Mom of 3
from
Soft and stretchy
These are my favourite for fit on a small skinny baby or probably any baby. The absorbency is a little less than what I'm used to but for daytime I should be changing every 3ish hours anyway haha. Don't use for nighttime.
Date published: 2020-12-09
Rated

1

out of

5
by
LauraN
from
Awful
I typically use Honest Co but really wanted to try these. They are not good. They leak... And they really can't hold a lot. They start sagging on my daughter immediately after she soils them. Sticking with Honest!
Date published: 2020-06-05
Rated

5

out of

5
by
Rissa
from
Light weight but Absorbant
These are really nice for warmer weather as they feel almost like a soft cotton t-shirt in design. They can leak but that's usually due to them being already full (they can hold a lot). Cute designs are a bonus.
Date published: 2020-08-05