Hello Bello Club Diaper Cars & City Prints
Hello Bello Club Diaper Cars and City Prints
is rated out of
5
by
5
.
Colour Not Shown
Colour Not Shown
Say goodbye to leaks and blowouts. Hello Bello's cutting-edge core contains a specially designed absorbent material that can absorb over 50x its weight in fluid. Plus, the inner and outer layers are super soft with a snug fit for supreme comfort.
Their specially designed core with spherical absorbers allowing to reduce waste (less material) while maintaining performance (more absorbency). This technology promotes dryness, locking wetness away in bubbles of leakage protection. Their eco-friendly and hypoallergenic diapers are made with sustainably harvested fluff pulp.
Features:

Breathable to promote good skin wellness
Wetness indicator (on Newborn to size 2)
Say goodbye to: lotion, fragrance, phthalates
Specially designed absorbent material can absorb over 50x its weight in fluid
Ultra-soft, cloth-like feel, inside and out, wraps your baby tenderly
Stretchy side panels for freedom of movement
High-loft acquisition layer for advanced leak protection
Stays snug when soiled, reducing sag and keeping a secure and comfy fit
Plant-derived absorbent core liner
100% Chlorine-Free processing
Two Cute Patterns Included: Cars & Cities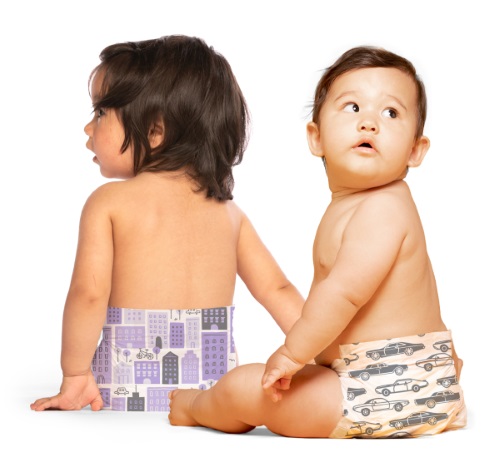 Rated

3

out of

5
by
Gillian
from
Cute but poor quality
Was excited to try this new brand, but was disappointed with the quality. The straps stretch out quickly, and the diapers droop and sag as soon as there is any waste in there. If they have diarrhea, it will squirt out the legs and back because the fabric stretches out so quickly. If you are diligent at changing after every movement or typically purchase cheaper diapers, these are a cute option, but otherwise I don't recommend.
Date published: 2020-04-03
Rated

4

out of

5
by
Angela
from
Extremely soft - Cute print
Very happy with these diapers. Extremely soft, cute print. Have had a couple of leaks but only due to extending change time. They only lost one star because there was a chemical smell when I opened the box. I feel they fit a little on the smaller side. My baby is on the upper weight of size 3 - going to try size 4 to see if that is better. I found them to be very good quality - no leaks overnight.
Date published: 2020-06-14
Rated

2

out of

5
by
EmmC
from
Not my favourite
The patterns are nice, different, but the diaper leaks soo bad, I have to change baby's clothes with almost every diaper change. Wanted to try them, since diapers are out of stock in our location 90% of the time. Not too happy, won't be ordering again.
Date published: 2020-05-20
Rated

5

out of

5
by
Qsmama
from
Amazing and so soft!
I don't know why other reviewers have issues. These diapers are amazing, we have not had a single leak or blowout, even overnight and my son used to leak through huggies overnight quite often.
Date published: 2020-04-26
Rated

2

out of

5
by
Raevon
from
So many leaks
These leak so much. My son cant wear them overnight. During the day it's a bit easier to change him several times. They are cute but other "less toxic" diapers work better.
Date published: 2020-04-19