Herbaland Green Coffee Bean Gummy



Herbaland is getting a fresh new look so you may receive the package shown above or the following. All ingredients have remained the same.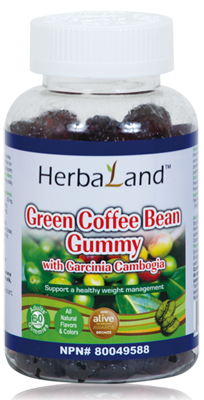 Green coffee beans are coffee beans that have not yet been roasted. Therefore, they contain a higher amount of the compound chlorogenic acid, which has been shown to have several health benefits. In particular, chlorogenic acid supports weight loss by promoting fat burning and blood sugar metabolism. With the addition of Garcinia cambogia which helps increase the feeling of fullness and satiety following meals, Herbaland's Green Coffee Bean Gummy is an excellent choice for weight management in a healthy way.
Features:
Supports your weight management needs
Can be used with a program of reduced intake of dietary calories
Supports thermogenic activity to help burn fat and helps support post-meal blood sugar metabolism
Now with Garcinia cambogia to help increase the feeling of fullness and satiety after meals
Directions:
(Adults aged 18 years and older): Take three (3) Gummies three (3) times per day orally. Take before meals.

Each Gummy contains:
Green coffee bean (Coffea arabica, Seed) ………..50 mg
(Providing Chlorogenic Acid ………………………25.0 mg
Caffeine …………………0.75 mg)

Non-Medical Ingredients:
Glucose Syrup, Sugar, Purified Water, Sorbitol, Gelatin, Pectin, Citric Acid, Malic Acid, Sodium Citrate, Natural Flavors (Caramel, Vanilla), Vegetable Oil, Carnauba Wax, Garcinia cambogia fruit rind.