Herbaland Gummy for Adults Eye Care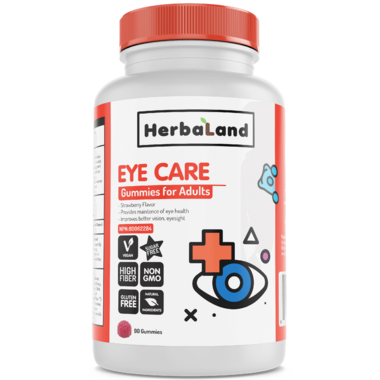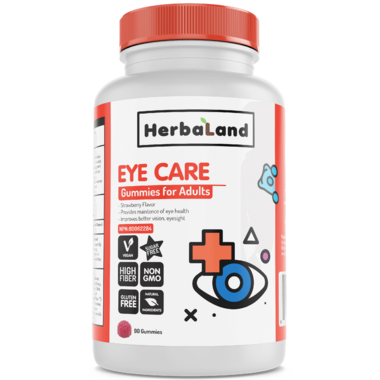 Herbaland Gummy for Adults Eye Care
Eye Care gummies provide antioxidant for the maintenance of eye health. Helps to maintain eyesight in conditions (associated with sunlight damage), such as cataracts and age-related macular degeneration. Helps to improve macular pigment optical density.
Lutein is a carotenoid vitamin that promotes healthy vision and protects the eye from sunlight and free radical damage. It has also been shown to support night vision and prevent eye disorders, such as cataracts, age-related macular degeneration, and retinis pigmentosa. Herbaland Gummy for Adults: Eye Care is a unique formula of lutein esters that provides optimal support for the health of your eyes. These delicious gummies are made with our new plant based, organic and sugar-free formula!
Features:
Organic
Vegan
Sugar-Free
Gluten-Free
Non-GMO
High fiber
Fat-free
CGMP Certified
Active Ingredient per gummy (2.2g): Lutein Esters (derived from Marigold Flowers) 10mg

Other Ingredients: Organic Isomalto-oligosaccharides (VitaFiber ), Purified Water, Organic Erythritol, Pectin, Organic Fruit Powder Blend (Strawberry, Raspberry, Blueberry, Tart Cherry, Pomegranate, Cranberry, Orange, Lemon), Natural Strawberry Flavor,Citric Acid, Potassium Citrate, Natural Black Carrot Color, Organic Stevia Leaf Extract, Organic Sunflower Oil.