Herbaland Gummy for Adults Pure Slim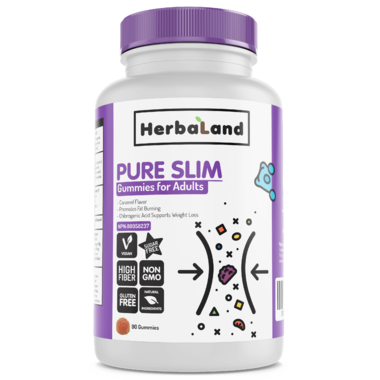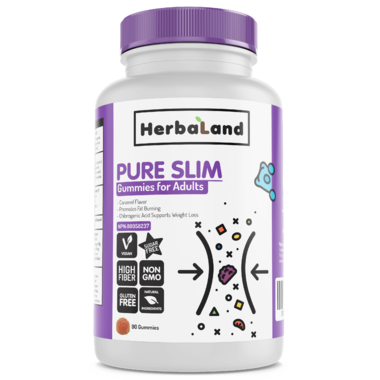 Herbaland Gummy for Adults Pure Slim



Pure Slim gummies compliment a healthy lifestyle that incorporates a calorie-reduced diet and regular physical activity for individuals involved in a weight management program.
Green coffee beans are coffee beans that have not yet been roasted. Therefore, they contain a higher amount of the compound chlorogenic acid, which has been shown to have several health benefits. In particular, chlorogenic acid supports weight loss by promoting fat burning and blood sugar metabolism. With the addition of Garcinia cambogia which helps increase the feeling of fullness and satiety following meals, Herbaland Gummy for Adults: Pure Slim is an excellent choice for weight management in a healthy way! These delicious gummies are made with our new plant based, organic and sugar-free formula!
Features:
Organic
Vegan
Sugar-Free
Gluten-Free
Non-GMO
High fiber
Fat-free
CGMP Certified
Active Ingredient per gummy (2.2g):
Green coffee bean (Coffea canephora, Seed) 50mg Providing Chlorogenic Acids 25mg Caffeine <1.0mg
Other Ingredients:
Organic Isomalto-oligosaccharides (VitaFiber ), Purified Water, Organic Erythritol, Pectin, Garcinia Cambogia Fruit Rind, Organic Banana, Natural Caramel Flavor, Citric Acid,Potassium Citrate, Organic Stevia Leaf Extract, Organic Sunflower Oil.