Herbaland Kid's Gummy Omega 3

Herbaland is getting a fresh new look so you may receive the package shown above or the following. All ingredients have remained the same.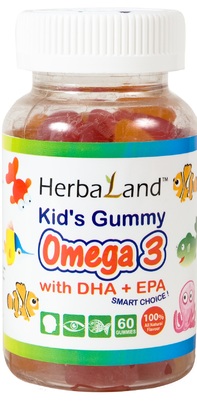 Omega-3 fatty acids, including DHA and EPA, support the development of the brain, nerves, and eyes in growing children. They have been shown to help improve memory, concentration, learning ability, and vision. However, the human body cannot manufacture these fatty acids, so they must be obtained from diet or supplements. Herbaland Kid's Gummy Omega 3 is sourced from high-quality fish oils rich in DHA and EPA. It has been specially formulated with great-tasting fruit flavors that your children will enjoy while benefiting from the nutrients in the fish oils.

Features:
Provides support in the development of the brain, nerves, and eyes in growing children.
Helps improve cognitive abilities, such as memory, concentration, and learning.
Helps promote healthy vision.
Helps stabilize mood in children by increasing serotonin levels in the brain.
Helps decrease the symptoms of attention deficit hyperactivity disorder (ADHD) and developmental co-ordination disorder (DCD) in children.
Directions:
(Children aged 2 and older): Aged 2-4: take (2) two Gummies per day orally. Aged 4 and older: take (2) two Gummies (3) three times per day orally. Take a few hours before or after taking other medications.
Each Gummy contains:
Fish oil (Fish oil, Engraulidae - Whole, Scombridae - Whole).....50 mg
Omega-3 Fatty acids………………………………………………..15 mg
Docosahexaenoic acid (DHA) …………………………………10 mg
Eicosapentaenoic acid (EPA)………………………………… 5 mg
Non-Medical Ingredients:
Organic Cane Sugar, Organic Tapioca Syrup, Purified Water, Pectin, Natural Flavor (Strawberry, Orange), Citric Acid, Sodium Citrate, Natural Color (Black Carrot, Annatto), Organic Sunflower Oil.