Herbaland Multi-Vitamin Gummy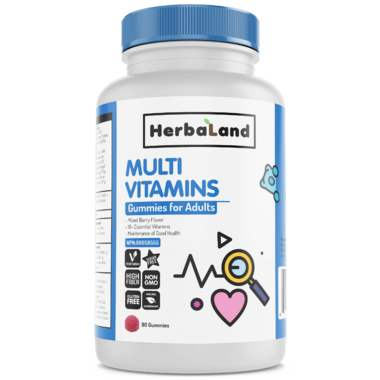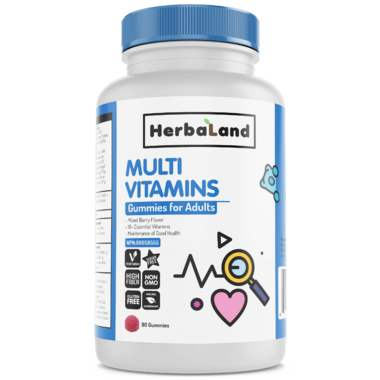 Herbaland Multi-Vitamin Gummy
Herbaland is getting a fresh new look so you may receive the package shown above or the following. All ingredients have remained the same.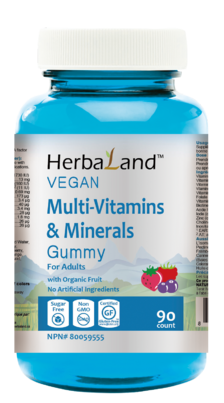 Vitamins and minerals are essential nutrients that the body needs in order to function properly. They are especially important for supporting daily metabolic processes and maintaining a healthy immune system. Herbaland Multivitamins and Minerals Gummy provide a balanced combination of essential vitamins and minerals that have been formulated to fulfill your daily nutritional requirements. While being supplemented with nutrients that may be missing from the daily diet, you will be able to enjoy the great-tasting natural fruit flavors of the Gummies.
Directions:
Recommended Dose (Adults aged 19 and older):
Take two (2) gummies two (2) times per day orally.
Take with food. Take a few hours before or after taking other medications.
Ingredients:
Organic Isomalto-oligosaccharides (VitaFiber™), Purified Water, Pectin, Organic Fruit Powder Blend (Organic Strawberry, Organic Raspberry, Organic Blueberry, Organic Tart Cherry, Organic Pomegranate, Organic Cranberry, Organic Orange, Organic Lemon), Natural Flavors (Mixed Berry), Citric Acid, Potassium Citrate, Natural Colors (Black Carrot), Organic Stevia Leaf Extract, Organic Sunflower Oil, Carnauba Wax.