Herbaland Vitamins D3 & B12 Gummy
Herbaland Vitamins D3 and B12 Gummy
is rated out of
5
by
6
.


Herbaland is getting a fresh new look so you may receive the package shown above or the following. All ingredients have remained the same.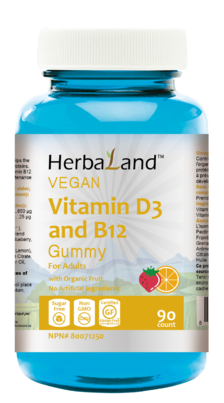 Vitamin D3 is a fat-soluble vitamin that is essential for the maintenance of overall good health. In particular, bone health and in the absorption of calcium and phosphorus, which are required for the development and maintenance of strong bones and teeth. Vitamin D3 also helps support the immune system and the cardiovascular system.
Vitamin B12 is involved in various metabolic processes in the body as well as red blood cell formation. It also plays a major role in the normal functioning of the brain and the nervous system. Vitamin B12 deficiency has been associated with fatigue, depression, and poor memory. Herbaland's Vegan Vitamins D3 & B12 Gummy is a highly potent formula that helps boost energy levels and reduce stress/depression while supporting healthy functioning of the body in one juicy serving of this fruit-flavored gummy.
Directions:
Take one (1) gummy per day orally.
Ingredients:
Organic Isomalto-oligosaccharides (VitaFiber™), Purified Water, Pectin, Organic Fruit Powder Blend (Organic Strawberry, Organic Raspberry, Organic Blueberry, Organic Tart Cherry, Organic Pomegranate, Organic Cranberry, Organic Orange, and Organic Lemon), Natural Flavor (Raspberry), Citric Acid, Potassium Citrate, Organic Stevia Leaf Extract, Organic Sunflower Oil, Carnauba Wax.
Rated

5

out of

5
by
TheresaB
from
Great Tasting Vitamin Essentials
I actually look forward to taking these each morning, due to their great taste and gummy medium. So glad to have found a vegan, cruelty-free alternative to my daily vitamins. I love this brand and can not recommend it enough!
Date published: 2020-01-19
Rated

5

out of

5
by
Anonymous
from
Delicious and Nutritious!!
I was so excited to find a gummy form of vitamin B12 and of course bonus D3. As a vegan I have been told that I will need to take vitamin B12 for the rest of my life as long as I am vegan. I hate the pill form and after a couple of weeks I forget to take the spray. I will NEVER forget to take a gummy!! Thanks Herbaland for keeping me healthy.
Date published: 2020-07-29
Rated

5

out of

5
by
BR
from
Phenomenal and Super Delicious
I love this product so much! It's so much fun to take cause it tastes amazing. I like that there is a 90-day supply in one bottle. Also, I can't swallow pills so this is a wonderful alternative.
Date published: 2020-05-14
Rated

5

out of

5
by
Elle
from
Really good!
I love Herbaland gummies. I've tried so many of them and they are all great. I really like this one too. It tastes good and makes it easier to take vitamins. I prefer these rather than pills.
Date published: 2020-02-21
Rated

5

out of

5
by
Erin
from
Canadian made and yummy!
So excited to add these to my life. I am notorious for not taking "pills" but throw em in candy form and I'm good. Canadian made, vegan, and all the good vitamins I need.
Date published: 2020-07-22
Rated

5

out of

5
by
Jillian
from
These gummies taste great and also a good price point. Will buy again.
Date published: 2020-03-24