Herbivore Botanicals Jasmine Body Oil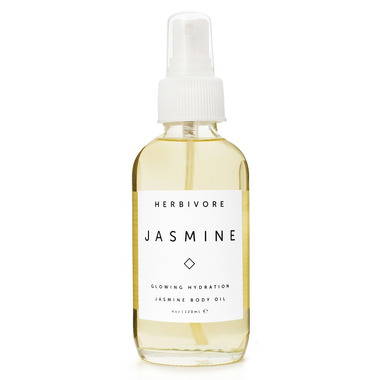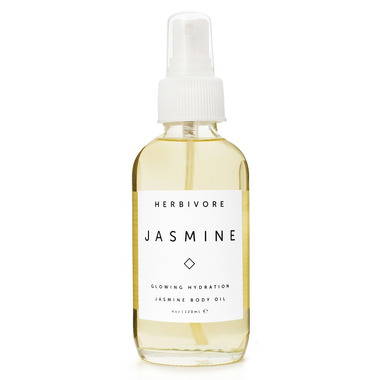 Herbivore Botanicals Jasmine Body Oil
Herbivore Botanicals Jasmine Body Oil is named for precious Jasmine Sambac oil, this Jasmine Body Oil is a blend of pure, natural botanical oils for glowing and hydrated skin with an intoxicating scent.
Features:
Camellia Flower Oil - Rich in cell renewing fatty acids, Omega 3 and 6, it naturally increases skin's elasticity and gives it a luminous glow.
Grapeseed Oil - High in linoleic acid, Vitamins C, D, and E. It also contains beta carotene, a form of Vitamin A that penetrates deeply into the skin to revitalize from within. Additionally, it has toning and tightening properties to smooth and moisturize the skin.
Jasmine Sambac Oil - A sweet and exquisite oil that has been used in skincare and perfumery for centuries with good reason — the scent is intoxicating and the oil itself works to increase the skin's moisture content and increase its elasticity.

Directions:
A little goes a long way, so start with a few drops and increase if needed.
Ingredients:
Capric Triglycerides (Fractionated Coconut Oil), Vitis Vinifera (Grape) Seed Oil, Camellia Oleifera (Camellia) Seed Oil, Simmondsia Chinensis (Jojoba) Seed Oil, Tocopherol (Vitamin E), Citrus Bergamia (Bergamot) Fruit Oil, Jasminum Sambac (Jasmine) Absolute

Keily:
a few months ago
I love this Jasmine oil. I use it after dry brushing alone or after applying L'occitane almond cream. I receive a lot of compliments on my skin and I'm always asked what I've been using. I love the scent..it's heavenly. I believe beautiful skin is very important and oils are wonderful for the skin.
Laurie:
a few months ago
I got a small bottle of this ( half the size) as a birthday present in February and I'm only now starting to run out. I used it mainly on my face and neck . The results were amazing ! its' subtle scents of jasmine and bergamot are the perfect balance.
My skin was prone to painful cysts and breakouts . You'd think oil would only exsaperate the issue but it has had quite the opposite effect. Now when the breakouts occur they calm down within 24 hours.
The oil itself is not thick and absorbs quickly. It DOES leave a light glow which I really liked. In my 40s I have found my skin had gotten quite dull and the Canadian weather combined with Toronto living has been harsh on my skin.
I cannot do without this stuff . It's great under makeup too. I love the results. A little really goes a long way! I'm 100 percent satisfied !!!
Page
1