Herschel Supply Settlement Sprout Backpack Navy
Herschel Supply Settlement Sprout Backpack Navy
is rated out of
5
by
17
.

Perfect for on-the-go parents, the timeless Settlement Sprout backpack (can also be used as a diaper bag) includes highly functional details. This versatile design features integrated storage for diapers, wipes and toys, with an easy-access folding change mat that stows in a custom compartment.
The convenient Sprout Change Mat offers a compact multi-fold design with a number of storage and transport options. Featuring an easy-to-clean surface, comfortable padding and a wet-wipe case, this highly functional accessory can be hand-carried, stored in a bag or attached to a stroller.
Features:
Signature striped fabric liner
Folding easy-wipe changing mat with reinforced mesh wing pockets
Optional hook-and-loop fastened changing mat storage divider
External zippered side-access to changing mat
Front storage pocket
Exposed plastic zippers
Water bottle pocket and mesh accessory sleeve
Classic woven label
Materials: 600D Polyester
Backpack Dimensions:
17.75"(H) x 12.25"(W) x 5.75"(D), 26L capacity
Change Mat Dimensions: Open - 26" (H) x 29.5" (W), Folded 6.75" (H) x 11" (W) x 2" (D)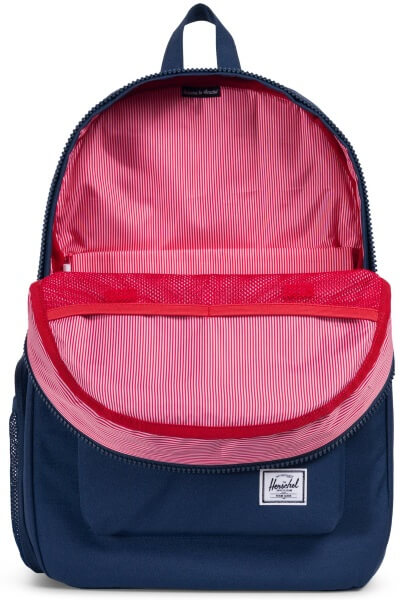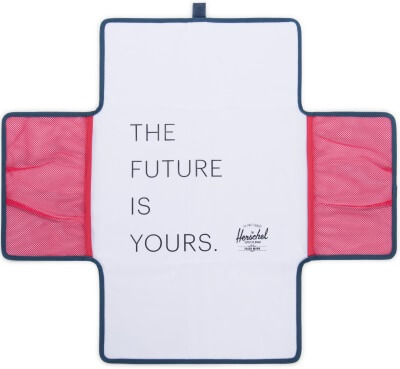 Similar Diaper Bags & Accessories
Other Herschel Supply Products
Rated

5

out of

5
by
Lynn14
from
Features and accessories
I bought this a few months ago, and has been amazing for us. It comes with a changing pad, which is bigger than other change pads I have. Change pad is very stylish and comes with two pockets for diaper and wipe container. There is a zipper on the side for easy removal of the changing pad, no need to open the bag and dig in looking for the change. It also has a soft padded sleeve for laptops, tablets. There is also a small zippered compartment at the front for small things such as wallet, keys, baby toys etc... love this baby. Perfect for toddlers, and could also be used as a regular bag for yourself or when your child gets older. Would purchase a second time if need be.
Date published: 2019-07-25
Rated

5

out of

5
by
EmmysMom
from
Cute and practical
I've had my backpack and change pad for a little over a month now and I love both. I had a messenger style bag before and it was always over stuffed and messy. I transferred what I had in that bag to the Settlement backpack and even with the large Sprout change pad I had room to spare. I store the Sprout, diapers and wipes in the bottom compartment and then extra clothes and toys up top. It's super convenient to open the side zipper to access her diapers and not dig through her clothes. Also the change pad is a really good size. She's almost 6 months and 17 lbs and the pad has so much room for her to wiggle around. I don't use bottles as my girl is breastfed, but there are 2 side pockets that would be great for extra bottles. Excellent product!
Date published: 2019-06-08
Rated

5

out of

5
by
Kellie
from
Love this diaper bag! <3
Love this diaper bag backpack!! Purchased about a month ago out of frustration when using messenger bag style diaper bag. The size is perfect, fits as much if not more than the large messenger style diaper bag I previously used. I am able to pack all I need for 2 kids. Purchased in polka cameo rose, my only complaint is that the polka dots are very faint, so much that I had to point them out to my boyfriend. Despite this I still love this colour.
Date published: 2019-07-24
Rated

5

out of

5
by
Shorty88
from
Great diaper bag for a any mom!
Love this backpack, bought the pink floral but I already have the blue floral I bought a few years back for my other daughter. It's beautiful, sturdy, and well made. I wouldn't mind if If was a bit bigger since newborns need a lot of stuff but as my daughter got older, I found I had more and more space and now she uses it for daycare. Will be purchasing a crossbody bag next for myself!
Date published: 2020-09-15
Rated

5

out of

5
by
Daisydays
from
The perfect diaper bag!
Bought this last week after the search of the perfect diaper backpack that doesn't look like a diaper bag but has the durability of an everyday backpack and I'd say this is the one! The main feature is the side zippered access that allows us to grab diapers or wipes for a quick change. The main compartment is so roomy & bright, really helps us finding things that could sometime be lost in a diaper bag. It also has this flap that could separate it into 2 compartments; the bottom that is accessed through the side zipper, we put all diaper changing needs in there & considered it as the dry area. While the upper compartment is accessed through the main zipper & we considered this as wet area where we keep all the snacks, bibs & toys for our son. It has 2 mesh inner pockets really useful to keep small things. The bag also came with a cool changing mat but we decided to keep it for our next baby. Overall I think we finally found our perfect diaper backpack!
Date published: 2019-06-10
Rated

5

out of

5
by
campet
from
Why did I wait to buy this
I LOVE this bag. I decided to get a cross body diaper bag. Regrets. Backpacks are so much more convenient and this bag fits more than my cross body one does but somehow feels smaller!! I love the bottom compartment for the change pad. So nice to just grab and go without having to dig for it. 10/10 would recommend.
Date published: 2020-05-31
Rated

5

out of

5
by
Gg02
from
Fits so much!
Had a regular messenger bag style diaper bag before but switched to this and it's so much better. Fits way more and is easy when hands are full with baby and baby gear. Love the change pad it comes with too so you don't have to lug the whole backpack with you to the bathroom
Date published: 2019-12-19
Rated

5

out of

5
by
Carina
from
Great buy!
This bag is sturdy and a great size! Color is true to website. It will fit all my baby essentials no problem! I expect it will remain nice and clean enough to be used as a backpack for toys and stuff when our baby is a bit older! So happy with this purchase!
Date published: 2020-06-01