Himalaya Herbal Healthcare Trikatu
Gastric Support
60 Caplets
Himalaya Herbal Healthcare Trikatu
Gastric Support
60 Caplets
Himalaya Herbal Healthcare Trikatu is a herbal supplement for gastric support.
Features:
Traditionally used to 'awaken digestion' in the upper digestive system
Promotes normal digestive function including the production of lipase, the enzyme responsible for breaking down dietary fat
Used to support the body's own natural response to occasional digestive sluggishness
Take 1 caplet per day after food
Certified USDA Organic
Gluten Free
Magnesium Stearate Free
Synthetic Additive Free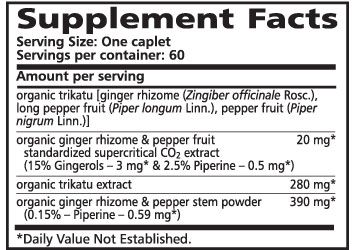 Pierre:
more than a year ago
I use Trikatu along with turmeric (curcuma in french). A study by a well known Montreal medical scientist demonstrates that 'piperine increases by a factor of 1000 the absorption of curcumine'. Piperine is the active ingredient of black pepper (found in trikatu). This combination of trikatu with turmeric decreases the risk of many cancers (including breast cancer). Also, trikatu has ginger. This helps to regulate cholesterol (I also use other products to regulate cholesterol).
Page
1