Holistic Blend My Healthy Pet Seagreens Powder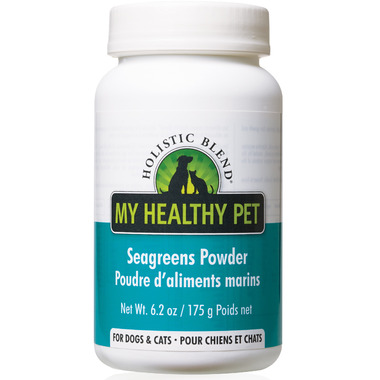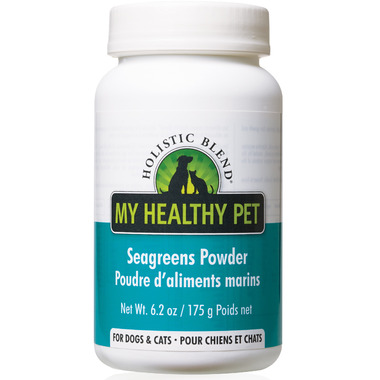 Holistic Blend My Healthy Pet Seagreens Powder
Chewing & Biting at the tail root or paws
Hypo-Thyroid
Lack of Energy
Excessive Shedding
Hot Spots
Bad Breath
If your pet is experiencing any of these problems, our Holistic Blend Seagreens is an excellent organic source supplement that targets these problem areas and provides stimulating natural healing effects within 20 - 30 days.
Holistic Blend Seagreens helps to boost activity of thyroid gland, promotes hair growth and colour pigmentation, and minimizes shedding, biting and scratching.
These problem areas are common, due to lack of minerals and vitamins which are not found in most commercial pet foods. At Holistic Blend, we start with 19 different types seaweed harvested from the Canadian virgin waters of Newfoundland.
Our Holistic Blend Seagreens provide 12 vitamins, 60 trace minerals, 21 amino acids, digestive enzymes and probiotics. Organic iodine is one of Holistic Blend Seagreens' most effective minerals, needed for the correct functioning of the thyroid gland, which controls the immune, hormone and enzyme systems of the body - and thereby influences the overall health, metabolism, skin and coat.


Diana:
more than a year ago
Purchased Seagreens Powder for my sickly 12 year old sweet cat. She was lathargic, losing fur daily with many bald areas, not friendly and couldn't jump up onto the bed or sofa, has arthritis and a very bad hot spot above her tail. Within one week, we noticed a lot had changed. She was now active, friendly again and had more strength to jump up onto the bed after starting her on the powder.
Sweet cat is not losing anymore of her thinning hair but it is coming in a little thicker now after one month. The bald spots look as if fur is starting to grow, but still hard to see. Will keep you posted on that.
Our cat had a very large hot spot which was getting worse despite being on the Seagreens powder. Changed her food to **** Van Patton Natural Balance cat food - Green Pea and Salmon (canned and dry. That big open sore began to heal and continues to heal daily. Don't give up on your dear Senior cat. There is hope for them.
Page
1