Homeocan Kids 0-9 Immuniti+ Gummy
Orange Flavour
50 Gummies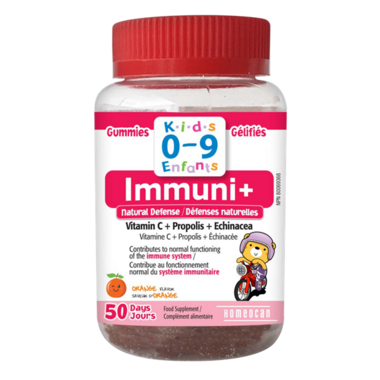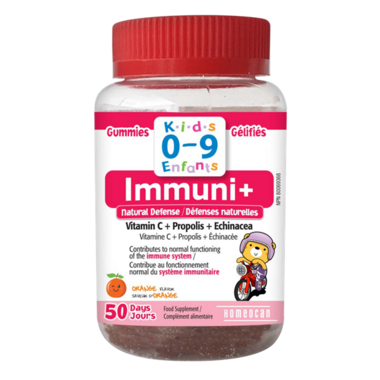 Homeocan Kids 0-9 Immuniti+ Gummy
Orange Flavour
50 Gummies

Homeocan Kids 0-9 Immuniti+ Gummy contributes to the normal functioning of the immune system and your little ones will sure love the orange taste!
Children 4 years of age and older: Give 1 gummy daily.
Medicinal Ingredients: Echinacea, propolis, Vitamin C.

Non medicinal: Glucose syrup, cane sugar, water, pectin, concentrated lemon juice, concentrated elderberry juice, natural grape flavour, natural orange flavour.
This product must be consumed as part of a healthy lifestyle. Keep out of reach of young children. Do not exceed the recommended daily dose. Rare cases of severe allergic reactions may occur; exercise caution if you are allergic to plants of the Daisy family. If you have allergies to bee products, poplar products or Peruvian balm, consult a health care practitioner before use. Hypersensitivity, such as an allergy, may occur following the use of propolis. If this is the case, discontinue use immediately.