Homeocan Kids 0-9 Multivitamins Gummy Bear
Blueberry Flavour
50 Gummies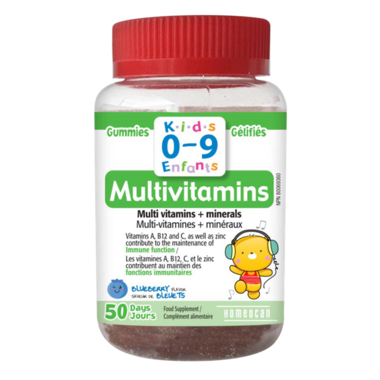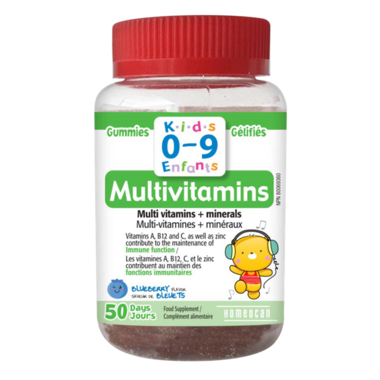 Homeocan Kids 0-9 Multivitamins Gummy Bear
Blueberry Flavour
50 Gummies
Homeocan Kids 0-9 Multivitamins Gummy Bear is great for kids. These gummy bears contain Vitamins A, B12 and C as well as Zinc, helps maintain the nutritional flavours! For kids 9+.

Features:
Vitamins A, B12 and C as well as Zinc contribute to the maintenance of immune function
100% natural
Gluten-free
Dairy-free
Cruelty-free
Dye-free
No side effects
Dosage:
Take 1 gummy daily.
Medicinal Ingredients: Biotin, Folate, Niacinamide, Panthotenic Acid, Riboflavin, Selenium, Thiamine,Vitamin A 120 mcg., Vitamin B12 0.375 mcg, Vitamin B6 0,21 mg, Vitamin C 12.0 mg, Vitamin E 1.8 mg, Vitamin K 11,25 mcg, Zinc 1.5 mg.

Non-Medical Ingredients: Concentrated lemon juice, Elderberry juice concentrate, flavour, pectin, sugarcane juice, water,glucose syrup.

Do not consume if you take anticoagulants ( blood thinners ). Do not exceed recommended daily dose
.