Honibe Honey Gummies Prenatal Multivitamin with Immune Boost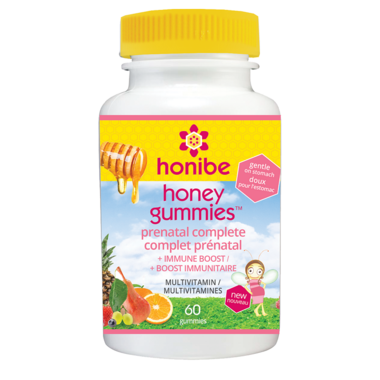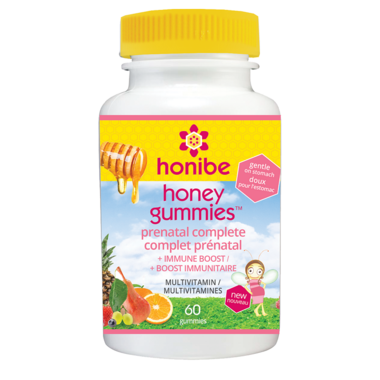 Honibe Honey Gummies Prenatal Multivitamin with Immune Boost
Expecting mom's can now look forward to a new way of taking prenatals with the Honibe Honey Gummies Prenatal Multivitamin with Immune Boost. Say goodbye to horse pills and hello to yummy easy to take gummies.
These gummies contain all of the vitamins and minerals recommended by Health Canada plus extra Vitamin C and Zinc to support your immune system. Also, since the number one ingredient is honey these are very gentle on your stomach.
Features:
50% less refined sugar
Easy to take
Gentle on stomach
No gluten or dairy
No artificial colours, flavours or preservatives
Dosage:
Pregnant women take two gummies per day with food. Take a few hours before or after other medications. Keep out of reach of children. To maintain product freshness, keep bottle tightly closed. Do not use if freshness seal is broken. Store in a cool, dry place
Ingredients:
Supplement Ingredients:
Vitamin A - 4,000 IU/1208mcg RAE, Vitamin B6 - 2.5mg, Vitamin B12 - 8mcg, Pantothenic Acid - 10mg, Vitamin C - 60mg, Vitamin D - 600 IU/15mcg, Vitamin E - 30 IU/30mg AT, Folic Acid - 800mcg, Thiamine - 1.7mg, Riboflavin - 2mg, Biotin - 300mcg, Zinc - 10mg Non
Medicinal Ingredients:
Honey, Organic Tapioca Syrup, Organic Cane Sugar, Natural Flavours (berry, fruit punch, orange), Pectin, Citric Acid, Sodium Citrate, natural Colour (anthocyanin, annatto, grape skin), Caranauba Wax.