Huggies Pull-Ups Learning Designs Training Pants For Boys Jumbo Pack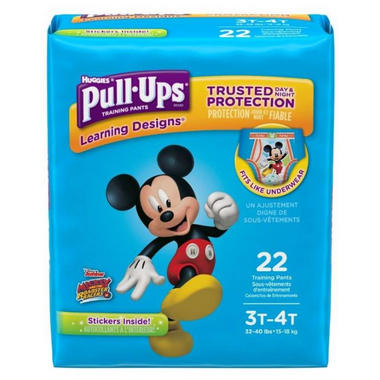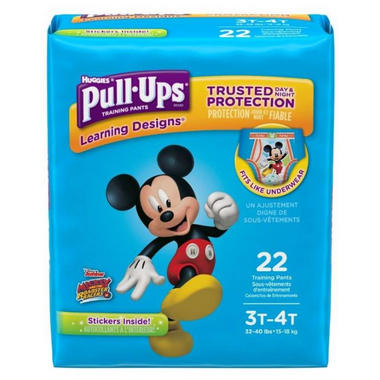 Huggies Pull-Ups Learning Designs Training Pants For Boys Jumbo Pack
Size:
The #1 training pant brand*, Pull-Ups Baby Boy Training Pants help make potty training easier vs. using diapers – they've helped train 50 million Big Kids and counting! Pull-Ups Disposable Training Diapers provide all-around coverage with soft, stretchy sides for a great fit, and an underwear-like design that lets your child slide them on and off easily. Pull-Ups give your child trusted day and night leak protection, with added absorbency - like a baby diaper - where he needs it most with easy-open sides for quick changes. Each pack of Pull-Ups for boys includes two designs your child will love – Disney's Mickey Mouse and Disney•Pixar's Buzz Lightyear and Woody from Toy Story – with graphics that fade when wet to help him learn. When your child is ready to begin her potty training journey, the Pull-Ups brand can help. Pull-Ups Potty Training Pants are available in sizes 2T-3T (18-34 lb.), 3T-4T (32-40 lb.) and 4T-5T (38-50 lb.).*Based on Nielsen market share for L52W ending 4/22/17
Features:
Disposable training diapers with leak protection you can trust - day or night

Helps teach toddlers the concept of easy up and down in a pull up diaper - boys training pants that fit like cotton underwear

HUGGIES Pull-Ups exclusive Disney graphics with Mickey Mouse &

Buzz Lightyear and Woody from Toy Story that fade when wet.

Includes bonus activities for your toddler

Easy open sides refasten for an adjustable fit

Available in sizes 2T-3T (18-34 lb.), 3T-4T (32-40 lb.) and 4T-5T (38-50 lb.)

Big Kid potty training at Pull-Ups.com

Packaging may vary from image shown.