Huggies
Huggies Pull-Ups New Leaf Boys' Potty Training Pants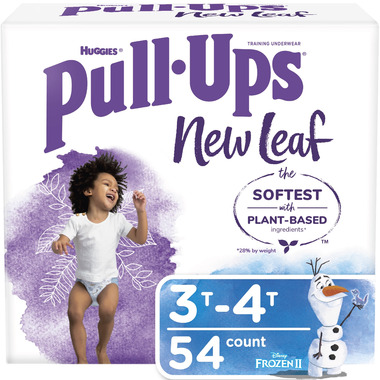 Huggies
Huggies Pull-Ups New Leaf Boys' Potty Training Pants
Description
Introducing Pull-Ups New Leaf Training Pants, the softest training underwear made with plant-based ingredients for healthy skin. Clinically proven to be hypoallergenic and made without harsh ingredients, New Leaf training pants provide up to 12 hours of outstanding leak protection. Designed to help keep your child comfortable while potty training, New Leaf training pants are made with a cottony-soft & breathable material with high absorbency—because once they're comfortable, Confidence Comes Naturally.
Featuring your favorite Frozen II characters, each pack includes front & back designs of Disney's Olaf, Sven & Kristoff, with wetness indicator graphics that fade when wet for a fun way to help him learn. When your child is ready to begin his potty training journey, the Pull-Ups brand can help. Visit pull-ups.com for expert articles, tips and potty training resources. We've helped potty train 60 million Big Kids and counting!

Features:
Softest training underwear crafted with plant-based ingredients* for healthy skin (*28% by weight)
Clinically proven hypoallergenic training pants made without harsh ingredients
Cottony-soft, gentle & breathable pant material with high absorbency and up to 12 hours of Pull-Ups' trusted leak protection
Super soft, refastenable sides with an adjustable waistband that provides a comfy & secure fit and allows for easy changes on-the-go or at home
Underwear like design that looks, feels, & fits like underwear with easy up & down motion to promote learning and Big Kid independence
Exclusive graphics of Disney's Frozen II include a wetness indicator that fades when wet to help your child learn to potty train
Coloring mat included featuring fun Frozen characters* (Colored pencils not included)
This product is excluded from any special promotions or coupons.
Features
Softest training underwear crafted with plant-based ingredients* for healthy skin (*28% by weight)
Clinically proven hypoallergenic training pants made without harsh ingredients
Cottony-soft, gentle & breathable pant material with high absorbency and up to 12 hours of Pull-Ups' trusted leak protection
Super soft, refastenable sides with an adjustable waistband that provides a comfy & secure fit and allows for easy changes on-the-go or at home
Underwear like design that looks, feels, & fits like underwear with easy up & down motion to promote learning and Big Kid independence
Exclusive graphics of Disney's Frozen II include a wetness indicator that fades when wet to help your child learn to potty train
Coloring mat included featuring fun Frozen characters* (Colored pencils not included)
Shipping & Returns