Hydro Flask Insulated Lunch Box Small Blackberry
Hydro Flask Insulated Lunch Box Small Blackberry
is rated out of
5
by
1
.
Lunch is an important part of every day. From quick bites on-the-go to lunch breaks in the park, it's the meal that powers us through the rest of the day. That's why Hydro Flask created the ultimate lunch box, featuring maximum insulation to keep contents cold for hours. The sleek, modern design is ready for the office and a durable build is fit for weekend outings. A fully lined interior makes for super easy cleanup, and a flexible handle makes for a comfortable carry – wherever your lunch break takes you.
Features:
Two layers of insulation means your favorite foods stay cold for hours
Kid-friendly design and a durable build fit for the playground
A fully lined interior means simple wipe down and easy clean up
Flexible handle is easy for little hands to carry
A flexible band holds utensils and snacks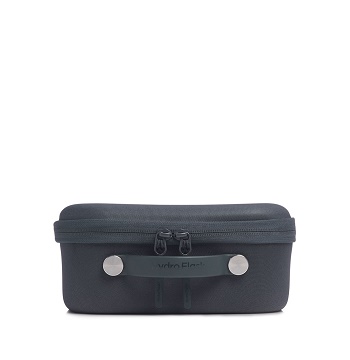 Similar Hydro Flask Lunch
Other Hydro Flask Products
Rated

1

out of

5
by
Wellshopper
from
Unfortunately I had to return it.
I really wanted to like this lunchbox because of its unique style durable outer shell and hard plastic liner. Unfortunately, it fell short in the following areas: If you plan on using hard plastic or stainless steel food storage containers, then you will have a VERY hard time fitting enough food into it, to last a full day at school (2 snacks + lunch). Due to its square shape, some of the space becomes unusable. It needs to be slightly larger and rectangular to resolve this space issue. Unfortunately, the next size up is a little too big even for an adult and almost looks like a small briefcase. It would look absolutely ridiculous if a child in grade school were holding it. Another space issue I noticed is the depth of the lunchbox. Since there is so much insulation in the lid, there isn't a lot of room to stack things on top. For example, If I place a thin ice pack on the bottom, then a small container on top of that, everything fits fine. However, since there is so much insulation in the lid, you lose that much needed space. Based on the outer construction, you would think there would be enough room to put something else thin on top that would fit into the lid of the lunchbox i.e. a small snack bag of crackers, veggie chips, popcorn, or whatever, but there isn't . Aside from a fork and napkin, there really isn't room, not even if you try to put something into the mesh pocket. 2) Speaking of the mesh pocket... It is not durable and I can definitely see it tearing, becoming mangled, and getting stinky very quickly. 3) The handle is too short to slip onto your wrist, which is important if you need to hold multiple things. It's actually uncomfortable to hold due to its hard exterior shell. Someone else complained about this as well, but I didn't believe it would be that much of an issue until I held it myself. 4) The short handle leads me to another issue, which is that it needs a removable strap. Again, so you can free up your hands when need be. 5) This issue next issue was a big deciding factor for me... When comparing it to another big brand, the zipper is very flimsy and I definitely see it busting after daily use. Especially if a child is using it (at any age). 6 ) The deal breaker... The main reason why I bought this lunchbox was because of the easy to clean, hard plastic liner. This was the biggest disappointment of all! They actually glued the liner under the zipper. So yes, leaks won't absorb into the lunchbox and stain or get stinky like most other soft lunch boxes do. Yes, you can take a cloth and wipe it down. However, every time you wash it down with a cloth, the zipper will end of getting wet too. With daily washing, the zipper will smell disgusting in no time and the glue will eventually break down and break away from the liner. The fact that you can't remove the liner was very surprising to me! On top of that, what is the point of having a washable hard liner, if the lid isn't made the same? The interior of the lid is actually made of soft plastic and insulation in behind, so if one of your containers were to leak, the lid would ultimately become saturated and stained. This lunch box is carried on it's side, which means both top and bottom should be protected! If Hydro Flask fixes all of these issues, then I will definitely, definitely buy it. Afterall, it IS super adorable and a removable lid/base would be perfect! Unfortunately, for the next couple of years I will using a lunchbox made by their biggest competitor. I wish their competitor would make a lunchbox with removable lids/bases too, but that's another review.
Date published: 2020-09-14