inGenuity Smart Clean Trio Elite 3-in-1 High Chair Slate
Ingenuity's™ Trio 3-in-1 SmartClean High Chair™ is every chair baby will ever need−it's three chairs in one! Three modes of use include a full-size high chair, booster seat, and toddler chair. The soft foam seat pad adds extra comfort for baby, wipes clean instantly, and is even dishwasher safe! The EasyClean™ tray removes with one hand, is dishwasher-safe, and features four locking positions to grow with baby. The high chair and booster seat include a five-point harness and the toddler chair has a three-point harness to keep baby secure.
The Trio SmartClean has three recline positions to accommodate a growing baby and toddlers up to 50 pounds. When used as a booster and toddler chair, it can even seat two children at the same time.
Play Meet the SmartClean Trio from Ingenuity - (International) Video on YouTube
Features:
3 modes of use: full-size high chair, toddler chair, and booster seat
Seat pad is made of soft foam so it's comfortable for baby and wipes clean easily
Grow with me" design−seats 2 children at once
3 position seat recline in full size high chair and booster modes
Removable tray has 4 locking positions to grow with baby and can be removed with one hand
Tray and tray insert are dishwasher-safe
Built-in cup holders are convenient for drinks or snacks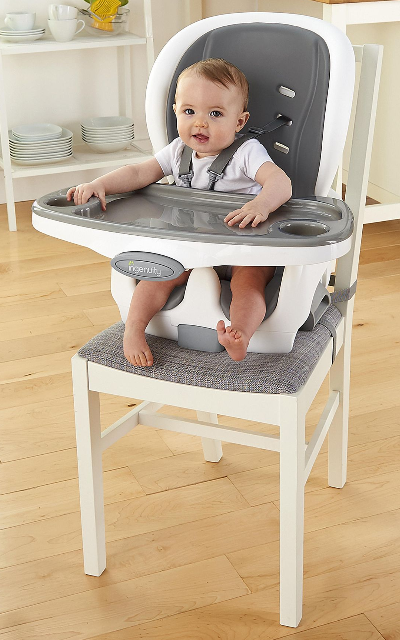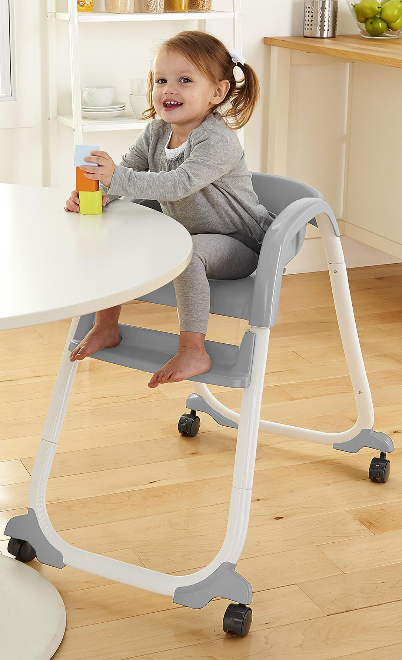 Similar High Chairs and Boosters