Innovite Health Inno-Cal-Mag Complex with Boron
Muscular Skeletal Health
120 Softgels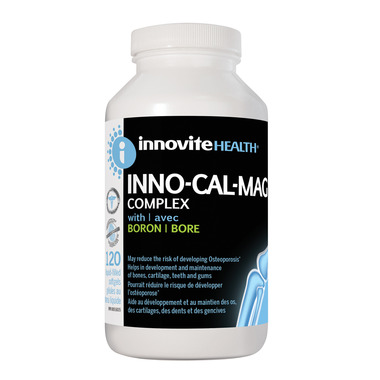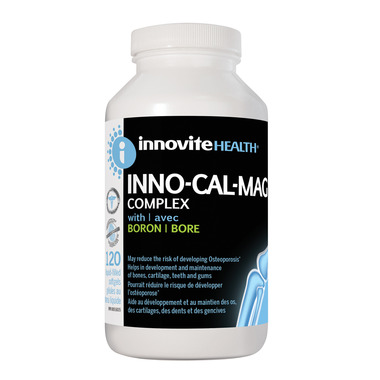 Innovite Health Inno-Cal-Mag Complex with Boron
Muscular Skeletal Health
120 Softgels
Innovite Health Inno-Cal-Mag® Complexes have a full range of strength options available is a small, easy-to-swallow liquid softgels. The synergistic formula has higher absorption and more bioavailable. Calcium has been the most obvious choice of dietary supplements for improving bone health. While calcium is crucial, taking it alone may not enough. To actually get calcium into your bones, the body relies on other vitamins and minerals like magnesium. INNO-CAL-MAG® Complex offers the most bioavailable form of calcium and the necessary co-factors in the correctly balanced ratios to help promote bone health. The products in the Inno-Cal-Mag family of products have been formulated to restore bone health by repairing weak, demineralised bones and prevent conditions like osteoporosis.
Features:
Strongly recommended for the treatment and prevention of osteoporosis
Magnesium activates the enzyme that triggers formation of calcium crystals in bone, and converts vitamin D to its active form
Formulated with Boron to promote bone health by preventing calcium loss and bone demineralization
Also formulated with Phosphorus, zinc, vitamin C and D3 to further support Calcium absorption
Formulated with Calcium Phosphate, a highly bioavailable form of calcium
Liquid Softgel allows for an easier digestion and absorption than tablets
Directions of Use:
Adults: Take 2 softgels twice daily with meals or as directed by a healthcare practitioner.
Medicinal Ingredients:
Each softgel contains:
Calcium (citrate, phosphate, ascorbate, carbonate)………...... 250 mg
Magnesium (citrate, oxide)………………………………….........125 mg
Phosphorus (diabasic calcium phosphate)………………….....62.5 mg
Zinc (glycinate)………………………………………………........1.25 mg
Boron (citrate)………………………………………….................0.75 mg
Vitamin C (calcium ascorbate)………………………....…............15 mg
Vitamin D3 (cholecalciferol)……………………….......1.25 mcg (50 IU)
In a non-medicinal base of essential fatty acids from sunflower oil, flaxseed oil and evening primrose oil.

Non-Medicinal Ingredients:
Gelatin, glycerin, purified water, sunflower lecithin, beeswax, silicon dioxide, rice protein, mixed tocopherols.
Free From:
wheat, gluten, dairy, corn, eggs, nuts, peanuts, fish, shellfish, yeast, sugar, starch, artificial colours, flavours and preservatives.
Warnings:
For adult use only. Consult a healthcare practitioner prior to use if you have an estrogen-dependent cancer. Do not use if you are pregnant or breastfeeding. Known Adverse Reactions: Some people may experience diarrhoea when taking more than 350mg of magnesium daily.

Caution:
Do not use if the seal is broken. Keep out of reach of children. Store in a cool dry place to preserve freshness.