Innovite Health Inno-Q-Nol Blood Pressure Formula
Cardio Health
60 Softgels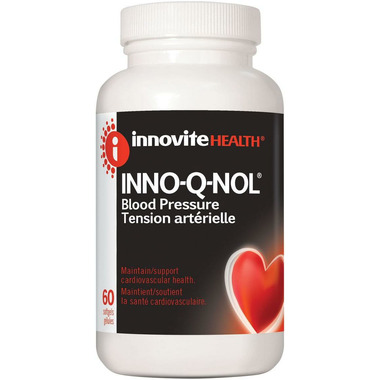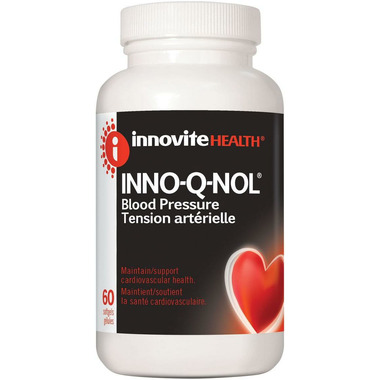 Innovite Health Inno-Q-Nol Blood Pressure Formula
Cardio Health
60 Softgels
Innovite Health INNO-Q-NOL® is the most stabilized form of CoQ10 (ubiquinol) available on the market today. It contains Kaneka QH™ CoQ10 Ubiquinol – the most clinically proven and most stable form of ubiquinol, backed by over 30 years of research and clinical data. It is derived from the most clinically proven source: yeast fermentation (more clinically proven versus bacterial or synthetic ).
INNO-Q-NOL® enhances the CoQ10 stability by providing 6X more absorption power with proprietary Q-Gel Technology.
Q-Gel Technology allows the softgel to dissolve spontaneously in the gastrointestinal track with minimum agitation. Q-Gel Technology also provides Triple Protected Stability:
MCT Oil matrix stabilizes the ubiquinol
Ascorbyl palmitate, a form of Vitamin C, reduces oxidation within the softgel
Annatto Seed Oil in the coating provides a barrier that neutralizes oxidants, which try to penetrate the softgel and denature the Ubiquinol
Features:

Reduce the risk for cardiovascular disease
Boost energy levels
Provide antioxidant protection
MegaNatural® BPI grape seed extract is clinically proven to lower blood pressure
Chocamine® is clinically proven chocolate extract is clinically proven to lower blood pressure

Directions of Use: Take 1 softgel twice daily as a dietary supplement or as recommended by your healthcare professional.

Medicinal Ingredients:
Each softgel contains:
CoQ10 (as ubiquinol, yeast fermentation source, Kaneka QH™)............50 mg
Grape (Vitis vinifera) seed extract (MegaNatural®-BP, standardized to 91% oligomeric proanthocyanidins) .................................................................75 mg
Cocoa (Theobroma cacao) bean extract (Chocamine™, standardized to to 0.5% caffeine and 2.0% theombromine) ........................................................125 mg
Magnesium (Oxide, Citrate)...................................................................150 mg

Non-medicinal Ingredients: MCT oil (medium chain triglycerides), gelatin, glycerin, purified water, ascorbyl palmitate, sunflower lecithin, turmeric dispersion in sunflower oil, silicon dioxide, annatto suspension in sunflower oil, yellow beeswax, tapioca starch and natural spices (ginger, allspice, cinnamon and vanilla powder)

Free from: wheat, gluten, dairy, corn, eggs, nuts, peanuts, fish, shellfish, soy, sugar, GMO, artificial colours, flavours and preservatives.

Cautions: For adult use only. Consult a healthcare practitioner prior to use if you are pregnant or breastfeeding, have high or low blood pressure, glaucoma, or overactive bladder syndrome or are taking blood pressure medication, blood thinners, or lithium. Consult a health care practitioner if symptoms worsen. Consumption with caffeine-containing products or natural health products and other drugs which increase blood pressure are not recommended. May cause migraine headaches and hypersensitivity/allergy is know to occur, in which case, discontinue use.